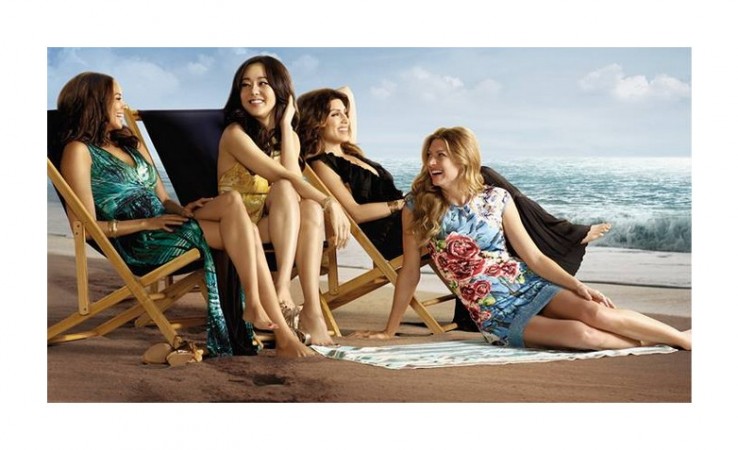 The gripping mystery series, "Mistresses", will return to ABC on Thursday, 18 June, with season 3. The first episode, "Gone Girl", is attributed to Alyssa Milano's Savannah "Savi" Davis, one of the main characters from the first and second seasons.
While Savi will be missing in action, her ex-husband Harry (Brett Tucker), will be getting a lot of it. Having confessed their feeling for each other, Harry and Savi's sister Joss (Jess Macallan) will be seen making out on the beach, when Karen (Yunjin Kim) interrupts them with some bad news.
Seeing as in the season 2 finale Karen learned that she was HIV-negative, but "something else came up," she could be dealt with some particularly devastating news. In "Gone Girl" she will visit Dr Alec (Ed Quinn) to get her blood test results, and the synopsis suggests that the results will "change her life in a very dramatic way", regardless of whether it says she is pregnant or that she has a fatal illness.
Another major reveal for season 3 is the introduction of Calista Raines, portrayed by Jennifer Esposito, who joined the cast after Alyssa Milano left the show. Calista is a fashion designer who is "determined to get what she wants."
Below is the synopsis for premiere episode "Gone Girl" of "Mistresses" season 3:
"Picking up where last season's cliffhanger left off, "Gone Girl" begins with the bride-to-be in the arms of another man. Having confessed their true feelings, Joss and Harry are making out on the beach when Karen calls with bad news and Joss races to be with Scott. Meanwhile, April invites her half-brother Scotty and his mother to town and they arrive with Uncle Marc in tow. Karen makes a return visit to her doctor, Alec and the results of her blood test are about to change her life in a very dramatic way. Fashion designer Calista Raines arrives on the scene determined to get what she wants."
Watch Mistresses Season 3 Episode 1 Sneak-Peek Video Below: