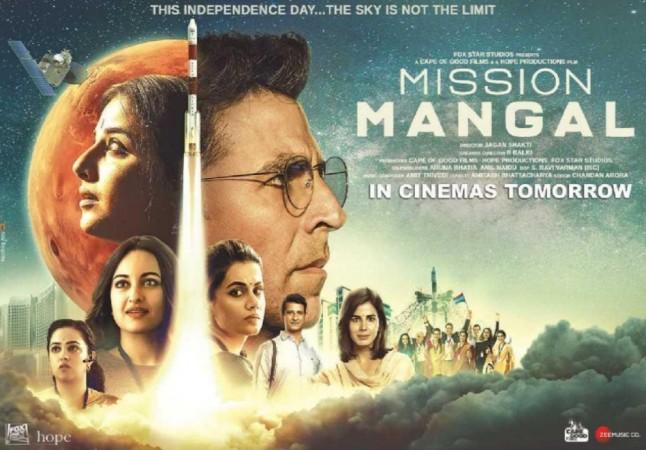 Much awaited movie Mission Mangal witnessed impressive advance booking, and now the film is also getting good reviews from audience and critics.
The movie released on Thursday, following which positive words started pouring in for Mission Mangal on social media and otherwise.
Directed by Jagan Shakti, Mission Mangal has the ensemble cast comprising Akshay Kumar, Vidya Balan, Sonakshi Sinha, Taapsee Pannu, Sharman Johsi, Nithiya Menen among others.
The film is based on the true event of one of India's biggest space research achievement. Social media is already abuzz with rave reviews for Mission Mangal. A lot of people and critics have been appreciating the film.
Early critics' reviews suggest Mission Mangal is a must watch. Not just the stars' performances, the direction and script is also being lauded.
Check some of the critics' review and rating of Mission Mangal.
Times of India: Under the vision of creative director R Balki and an average execution by filmmaker Jagan Shakti, 'Mission Mangal' makes good with its emotional highs and drama. In the end, when you see India's scientists celebrate their hard-earned victory with the Mangalyaan orbiting Mars, you can't help but cheer for the triumph of a nation and its scientific success. Despite the ups and downs, this story does make you believe that dreams do come true, especially in the vast expanses of the outer space. (3*/5*)
Times Now: Mission Mangal is a well-written film, brilliantly written in fact, for a movie based on real life incidents. There is not one cast member who does not contribute to the plot of the film. Every character has been given an equal screen space and well-deservedly. It makes you want to stand and applaud in the theatre towards the end. (4*/5*)
Bollywoodlife: Mission Mangal has a lot going for it especially in terms of narrative, dialogues and performances. It captures the spirit of scientists in a relatable light-hearted manner. Vidya Balan again proves why she is an acting powerhouse. It is a decent watch on Independence Day to celebrate the spirit of India space team and it's passion. (3*/5*)
NDTV: This isn't Mission Magnificent. But it isn't Mission Mangled either. Mission Mangal is watchable, if not always exhilarating, if you can get over its excesses. (3*/5*)
News18: Despite its creative shortcomings, director Jagan Shakti makes the film evoke patriotic fervor in the audience. Truth be told, in the climax, one can't help but be filled with wonder and pride when the satellite swings into sight! And yes, given that the film doffs a hat to the true-life heroes who accomplished the impossible feat, one hopes that the film's collections at the box-office are 'Mangal' too. (3*/5*)
"Went for the special screening of #MissionMangal . Terrific movie, must watch!! The nuanced authenticity of acting does justice with all our ISRO superheroes. Last 25 mins is guaranteed goosebumps," tweeted Varun Jhaveri.
This eve it was pleasure watching movie with @sonakshisinha & @taapsee and our very own hero @akshaykumar. Loved every second of the movie without realisation of time! #MissionMangal is bound to be successful just like the mission itself became BUT the movie is of @vidya_balan," wrote another Twitter user.
Related