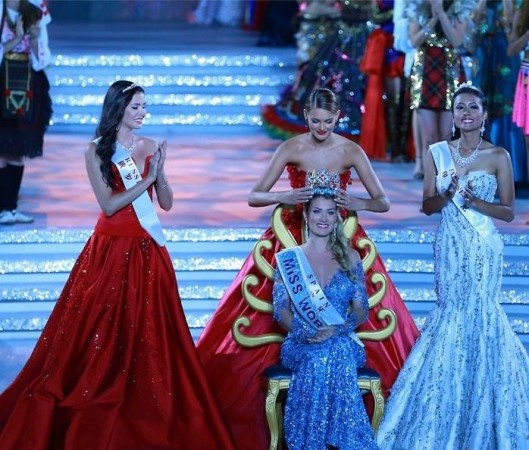 The Miss World 2016 fever has begun with more than 130 beauties from around the world participating in the Talent event. The Miss World Talent event is not a compulsory competition, but the contestants who participate in the event get to earn major points that will help them in the final round.
According to the official website of the beauty pageant, Miss World 2013 Megan Young and Miss World 2015 Mireia Lalaguna also participated in the Miss World Talent event.
This year, the contestants presented 91 acts to the judges that include 18 singing acts, 57 dancing acts and 16 miscellaneous acts. Out of these 91 acts, judges selected 15 acts for the semi-final round. The 15 semi-finalists include Miss India 2016 Priyadarshini Chatterjee. For the Talent event final, Chatterjee will perform a traditional dance.
Others in the list are Miss Philippines Catriona Gray, Miss Chile Antonia Figueroa, Miss Cook Islands Natalia Short, Miss Croatia Angelica Zacchigna, Miss Czech Republic Natalie Kotkova, Miss Fiji Pooja Priyanka, Miss Hungary Timea Gelencser, Miss Latvia Linda Kinca, Miss Malta Anthea Zemmit, Miss Mongolia Bayartsetseg Altangerel, Miss Poland Kaja Klimkiewicz, Miss Puerto Rico Stephanie Diaz del Valle, Miss Russia Yana Dobrovolska, Miss Scotland Lucy Kerr, Miss Serbia Katarina Sulkic, Miss Slovenia Maja Taradi, Miss South Africa Ntandoyenkosi Kunene, Miss Ukraine Oleksandra Kucherenko, Miss Canada Anastasia Lin and Ecuador Mirka Paola Cabrera Mazzini.
Semi-finalists of Talent competition in no particular order
Chile - Violin
Cook Islands - Dance + Drum
Croatia - Singer
Czech Republic - Dancer
Fiji - Bollywood Dance
Hungary - Acrobatic Gymnastic Dance
Latvia - Contemporary Dance
Malta - Contemporary Dance
Mongolia - Magic & Quick Change Artist
Philippines - Singer
Poland - Singer
Puerto Rico - Singer
Russia - Contemporary Ballet
Scotland - Cheerleader/Gymnast
Serbia - Singer
Slovenia - Tango
South Africa - Singer
Ukraine - Piano & Dance
Canada - Piano
India - Traditional Dance
Ecuador – Singer
The Miss World 2016 is the 66th edition of the beauty pageant. The beauty pageant kick-started this week with contestants arriving in Washington DC. Spain's Mireia Lalaguna, who is the winner of Miss World 2015, will crown her successor on December 18.