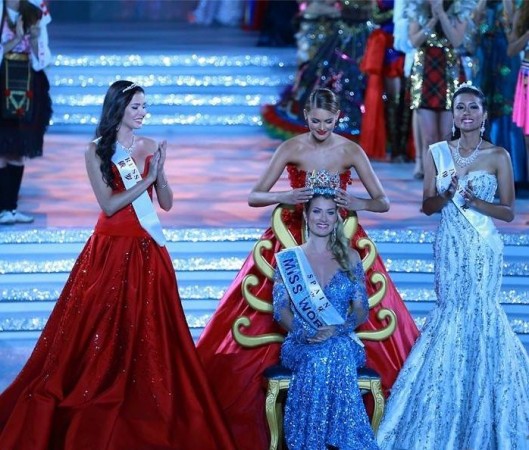 The 66th edition of the Miss World beauty pageant will kick-start in Washington D.C. with a grand finale taking place on Dec. 20. Spain's Mireia Lalaguna, who is the winner of Miss World 2015, will crown her successor this year on Dec. 20.
This year, over 130 contestants are expected to compete for the Miss World 2016 crown. However, only 76 contestants have been confined until now. The final list of contestants will be out in November and the contestants are expected to arrive in the U.S. capital by the end of November for the beauty pageant.
"Starting the end of November, and spanning several weeks, the 66th edition of Miss World will put the contestants through a series of challenges and interviews to determine who will win the coveted title of Miss World 2016 and become the ambassador of 'Beauty with a Purpose'," Miss World organisation said in a statement.
Here is the list of confirmed 76 contestants:
Miss Albania, Endrra Kovaci
Miss Argentina Elena Roca
Miss Aruba Lynette Do Nascimento
Miss Australia Madeline Cowe
Miss Austria Dragana Stankovic
Miss Bahamas Ashley Hamilton
Miss Belarus Polina Borodacheva
Miss Belgium Lenty Frans
Miss Bolivia Leyda Suarez
Miss Botswana Thata Kenosi
Miss Brazil Beatrice Fontoura
Miss Bulgaria Galina Mihaylova
Miss Canada Anastasia Lin
Miss Cayman Islands Monyque Brooks
Miss Chad Sylvaine Leloum
Miss Chile Antonia Figueroa
Miss Colombia Shirley Atehortua
Miss Cook Islands Natalia Short
Miss Côte d'Ivoire Esther Memel
Miss Croatia Angelica Zacchigna
Miss Cyprus María Kósta
Miss Czech Republic Natalie Kotkova
Miss Dominican Republic Yartiza Reyes
Miss England Elizabeth Grant
Miss Fiji Pooja Priyanka
Miss Finland Heta Sallinen
Miss France Iris Mittenaere Druar
Miss Ghana Antoinette Delali Kemavor
Miss Guinea Safiatou Balde
Miss Guyana Nurriyyih Gerrard
Miss Guadeloupe Magalie Adelson
Miss Gibraltar Kayley Mifsud
Miss Haiti Suzana Sampeur
Miss Honduras Kerelyne Webster
Miss Hungary Timea Gelencser
Miss Iceland Anna Lara Orlowska
Miss India Priyadarshini Chatterjee
Miss Italy Giada Tropea
Miss Indonesia Natasha Halim
Miss Israel Karin Alia
Miss Jamaica Ashlie Barrett
Miss Kazakhstan Alia Mergenbaeva
Miss Kenya Evelyn Njambi
Miss Korea Hyeon Wang
Miss Kyrgyzstan Perizat Rasulbek-Kyzy
Miss Latvia Linda Kinca
Miss Lesotho Lebakile Mokhohlane
Miss Madagascar Samantha Todivelou Rodriguez
Miss Malta Anthea Zemmit
Miss Malaysia Tatiana Kumar
Miss Moldova Daniel Marin
Miss Myanmar Bella Victor
Miss Namibia Lizelle Esterhuizen
Miss Nepal Asmi Shrestha
Miss New Zealand Karla de Beer
Miss Nicaragua Maria Laura Ramirez
Miss Northern Ireland Emma Carswell
Miss Peru Pierina Wong Mori
Miss Paraguay Simone Freitag
Miss Portugal Cristiana Viana
Miss Puerto Rico Stephanie Diaz del Valle
Miss Russia Yana Dobrovolskaya
Miss Rwanda Jolly Mutesi
Miss Scotland Lucy Kerr
Miss Serbia Katarina Sulkic
Miss Seychelles Christine Barbier
Miss Slovakia Kristina Cincurova
Miss South Africa Ntandoyenkosi Kunene
Miss St Lucia La Toya Moffat
Miss Sweden Emma Strandberg
Miss Thailand Jinnita Buddi
Miss Trinidad and Tobago Daniella Walcott
Miss Uruguay Romina Trotto
Miss USA Audra Mari
Miss Vietnam Thi Dieu Ngoc
Miss Wales Ffion Moyle