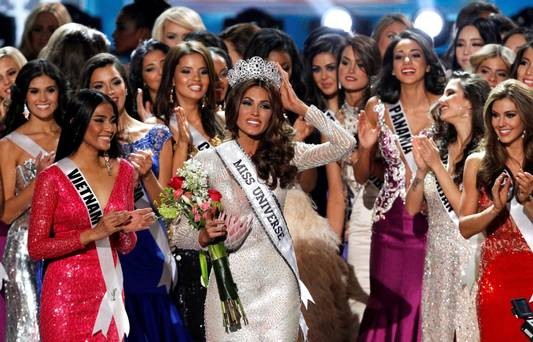 The organisers of the 63rd Miss Universe beauty pageant revealed the names of contestants who will participate in the contest. The Miss Universe competition will be held on 24 January 2015, at Florida International University in Doral, Miami, USA.
In total, 90 contestants from across the world will participate in the Miss Universe competition. Miss Universe 2013 Gabriela Isler of Venezuela will crown her successor at a grand finale on 24 January in Miami.
Miss Diva Universe Noyonita Lodh will represent India at the Miss Universe platform. The 21-year-old won the Miss Diva title this year in October.
Check the list of contestants, who have been confirmed for Miss Universe contest:
1. Albania: Zhaneta Byberi
2. Angola: Zuleica Wilson
3. Argentina: Valentina Ferrer
4. Aruba: Digene Zimmerman
5. Australia: Tegan Martin
6. Austria: Julia Furdea
7. Bahamas: Tomii Culmer
8. Bolivia: Claudia Tavel
9. Brazil: Melissa Gurgel
10. British Virgin Islands: Jaynene Jno Lewis
11. Bulgaria: Kristina Georgieva
12. Canada: Chanel Beckenlehner
13. China: Yanliangu Hu
14. Colombia: Paulina Vega
15. Costa Rica: Karina Ramos
16. Croatia: Ivana Misura
17. Curacao: Laurien Angelista
18. Dominican Republic: Kimberly Castillo
19. Ecuador: Alejandra Argudo
20. El Salvador: Patricia Murillo
21. Ethiopia: Hiwot Mamo
22. Finland: Bea Toivonen
23. Georgia: Ana Zubashvili
24. Germany: Josefin Donat
25. Ghana: Abena Appiah
26. Great Britain: Grace Levy
27. Greece: Ismini Dafopulou
28. Guam: Brittany Bell
29. Guatemala: Ana Montufar Urrutia
30. Guyana: Niketa Barker
31. Haiti: Christie Desir
32. Hungary: Henrietta Kelemen
33. India: Noyonita Lodh
34. Indonesia: Elvira Devinamira
35. Israel: Doron Matalon
36. Jamaica: Kaci Fennell
37. Japan: Keiko Tsuji
38. Kazakhstan: Aiday Issayeva
39. Kenya: Gaylyne Ayugi
40. Korea: Yoo Bin
41. Kosovo: Artnesa Krasniqi
42. Lebanon: Saly Greige
43. Lithuania: Patricija Belousova
44. Malaysia: Sabrina Beneett
45. Mauritius: Pallavi Gungaram
46. Mexico: Josselyn Garciglia
47. Myanmar: Sharr Eaindra
48. Netherlands: Yasmin Verheijen
49. Nicaragua: Marline Barberena
50. Nigeria: Queen Celestine
51. Norway: Elise Dalby
52. Panama: Yomatsy Hazlewood De La Rose
53. Paraguay: Sally Jara Davalos
54. Peru: Jimena Vecco
55. Philippines: Mary Jean Lastimosa
56. Poland: Marcela Chmielowska
57. Portugal: Patricia Da Silva
58. Puerto Rico: Gabriela Berrios
59. Russia: Yulia Alipova
60. Serbia: Andjelka Tomasevic
61. Singapore: Rathi Menon
62. Slovenia: Urska Bracko
63. South Africa: Rolene Strauss
64. Spain: Desire Ferrer
65. Sri Lanka: Avanti Page
66. Sweden: Camilla Hansson
67. Switzerland: Zoe Metthez
68. Tanzania: Carolyne Bernard
69. Thailand: Pimbongkod Chankaew
70. Trinidad & Tobago: Jevon King
71. Turks & Caicos: Shanice Williams
72. Ukraine: Diana Harkusha
73. Uruguay: Johana Riva Garabetian
74. USA: Nia Sanchez