Miss District Of Columbia Kara McCullough is the winner of Miss USA 2017, but not too many people were happy with the result. They believe that Miss New Jersey Chhavi Verg should have won the title. Several viewers took to Twitter to say that Miss New Jersey was "robbed."
Chhavi and Kara were among the top favourite contestants of Miss USA 2017, but the former lost the crown to Miss District Of Columbia on Sunday night. Chhavi, who is the second Indian-American to win Miss New Jersey crown, was announced the first runner-up to Miss USA. Many Twitter users are of the opinion that it was Chhavi who gave an accurate answer in the Q&A round.
Also Read: Miss USA 2017 crowning moments in photos
During the Q&A round, Kara was asked, "Do you think affordable healthcare for all the US citizens is a right or a privilege and why?" and her answer disappointed several of her fans.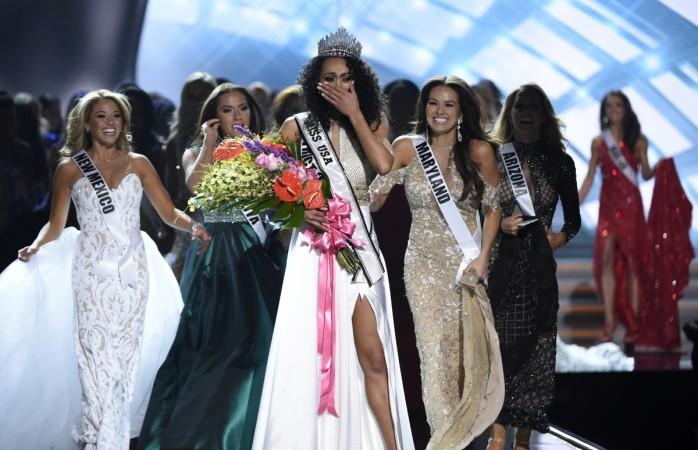 "I'm definitely going to say it's a privilege," Kara answered. "As a government employee, I am granted healthcare and I see firsthand that for one to have health care you need to have jobs so, therefore, we need to cultivate this environment that we're given the opportunity to have healthcare as well as jobs to all the American citizens worldwide."
On the other hand, Chhavi was asked, "Do you feel that social media is ultimately a positive or a negative platform?" and her answer was praised by several, as she quoted Spider-Man.
"With social media, I believe it has given so much power in this world, but with great power comes great responsibility and I have seen both ends of social media. For me, it has been one of the most empowering experiences because I have met so many empowered women, but at the same time, I have also been a victim of cyberbullying like many of the contestants with me standing on this stage. Social media again a privilege, it's something you have to be careful of you can't just say anything just because you are anonymous and once we realise that that's when we can truly build a better world for everyone."
After the round of top five contestants, both Kara and Chhavi moved to the round of top three, and they were asked the same question, "What do you consider feminism to be, and do you consider yourself a feminist?"
Kara's reply: "I don't want to call myself a feminist. Women, we are just as equal as men, especially when it comes to opportunity in the workplace."
Chhavi's reply: "Feminism is striving for equality and I do consider myself a feminist. I think it's a misconception when people believe that feminism is women being better than men. But it's really not. It's a fight for equality. And we need to realise that if we want a stable society, a better future for every single individual, we need to be equal."
Twitter users criticised the newly-crowned Miss USA for both the answers, while praising the first-runner up.
Check out the Twitter reactions below:
Several applauded Miss New Jersey for her answer on feminism.