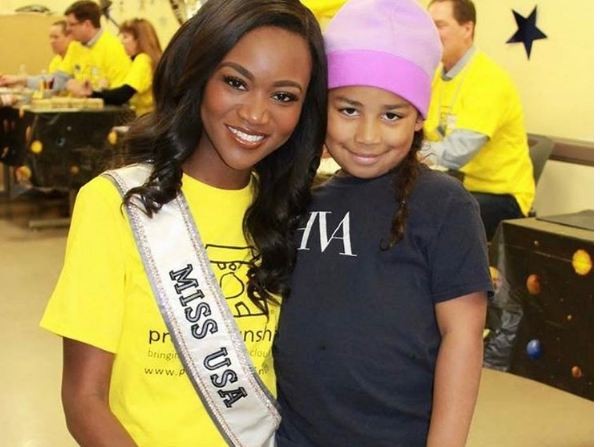 The contestants of Miss USA 2017 participated in the preliminary competition and walked the ramp showcasing their swimwear and designer evening gowns on Thursday night. All the 51 contestants took part in the evening gown swimwear rounds that will help judges decide the semi-finalists of the Miss USA 2017 competition.
The preliminary competition was held at Mandalay Bay Resort and Casino on Thursday, May 11, at 7 pm. The event began with all the 51 contestants' introduction, followed by the swimwear and evening gown rounds. The scores of this competition and interviews of the contestants will determine the semi-finalists, which will be revealed on Sunday night.
Also Read: Miss USA 2017: Check out the complete list of contestants
Miss USA 2016 Deshauna Barber and Alex Wehrley hosted the preliminary show live on Thursday night. The preliminary competition was judged by Halima Aden, a 19-year-old model who took the fashion world by storm, Vanessa Gringer, Senior Director of Commercial Endorsements and Business Development at WME|IMG, Nancy Lublin, Founder & CEO of Crisis Text Line, Nick Light, Senior Vice President of Artist Development and Touring for Sony Music Entertainment, Carole Gist, former Miss USA, Brook Lee, former Miss Universe, and Maura McGreevy, Senior Vice President of Corporate Communications at IMG.
The contestants before walking on the stage revealed their diet routine and also spoke about the competition.
"When it came to the diet routine, I'm a curvier woman, I'm a curvier girl so I didn't want to send a message that you needed to drop 30 pounds to do well in a pageant," Miss Georgia Deanna Johnson told E! News.
"I'm not much of a weight-lifting person. I'm more of a cardio girl. I teach Latin dance so I'm all about that type of movement, but getting ready for the swimsuit competition I really want to push myself and get the best body of my life so I was doing weight lifting and workouts I've never done before," Miss Idaho Cassie Lewis said.