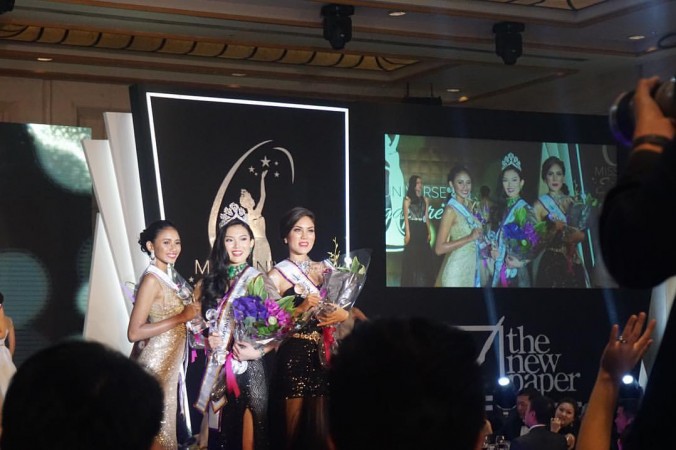 Cheryl Chou, a 20-year-old student, has been crowned the winner of the Miss Universe Singapore 2016. Chou will represent Singapore at the global Miss Universe 2016 platform, which will be held next year in the Philippines.
Chou was crowned the winner after beating 14 other finalists on Sunday night at the grand ballroom of the Grand Copthorne Waterfront Hotel. The first runner-up was Tanisha Khan, an 18-year-old polytechnic student, while Sonya Branson, a 25-year-old model, was announced as the second runner-up.
The top five finalists Chou, Khan, Branson, Joeypink Lai and Luisa Gan were the top five finalists, but only Chou was crowned the winner.
"Never in my wildest dreams did I imagine myself as Miss Universe Singapore. It has been a roller coaster ride of a journey and I am so grateful for the amount of support and encouragement that my family and friends have given me. Thank you to everyone that has made this experience so magical, I can't wait to see what is in store next!" Chou posted on her Facebook page after winning the crown.
Chou was also awarded a cash prize of $10,000, $24,000 of beauty and wellness services from Beaute Hub, up to $20,000 of dental aesthetic services from Orchard Scotts Dental, $9,000 of training sessions from Bodyburn Fitness Singapore and a Canon camera worth $1,000, according to the Straits Times.
The grand finale of the Miss Universe Singapore 2016 was held on Sunday night at 7.30 pm (local time) at the Grand Copthorne Waterfront Hotel. The beauty pageant finale was judged by the national director of Miss Universe Singapore and the winner of the 2002 title Nuraliza Osman, The New Paper deputy editor Murali Subramaniam and producer-fashion consultant Daniel Boey among others.