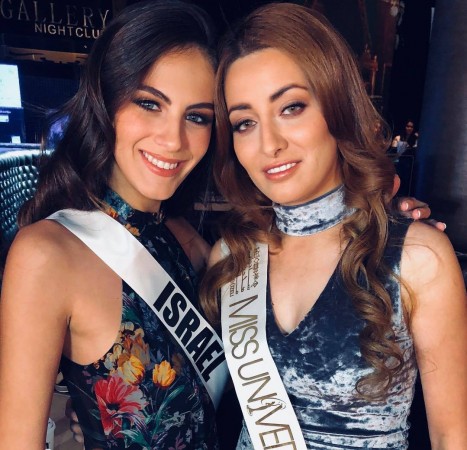 Miss Universe 2017 beauty pageant is yet to begin and it has already created a controversy. Contestants, who are gearing up to compete with each other for the crown, clicked a few selfies when they arrived in Las Vegas for the event, but a particular photo has received mixed reactions on social media.
On Tuesday, Miss Universe Israel Adar Gandelsman and Miss Universe Iraq Sarah Idan came together to take a selfie, but it did not go down well with a few social media users.
Gandelsman shared the photo on Instagram with the caption, "Get to know, this is Miss Iraq and she's amazing" and on Facebook, the caption read, "With Miss Iraq, Practicing bringing world peace."
Idan shared the same sentiments on social media and captioned the photo: "Peace and Love from Miss Iraq and Miss Israel."
The relation between Iraq and Israel has remained hostile and the two contestants representing these two enemy states tried to bridge the gap with a selfie, but several social media users were not happy with the photo.
"If you are an honorable Arab you have to hate Israel forever. Palestine is our honor, the Arabs," an Instagram user commented.
"Miss Israel served in the Israeli Army and caused the death and displacement of hundreds of Palestinians. He who puts his hand in her hand has participated in the crime," another said.
"You dishonor all of our people that died under their occupation. You Zionist shill," a third user commented.
After the backlash, Idan issued a statement saying that they took the photo to spread the message that there is hope for peace between the two enemy states. However, she also apologised for sharing the photo.
"I would like to apologise to anyone who considered the photo to be offensive to the Palestinian cause as this was not the aim behind the post, it was merely a call to peace and hope for a solution to the crisis."
Idan's post garnered several positive comments with several praising Miss Iraq for taking the risk and spreading the message of peace.
Meanwhile, the official page of Miss Universe issued a statement and said they are with Miss Iraq and Miss Israel in this noble cause.
"For decades, the term "pageant" has been associated with "world peace," often in a satirical context. We are proud to embrace this noble pursuit in a very real sense and believe we all benefit from the experience."