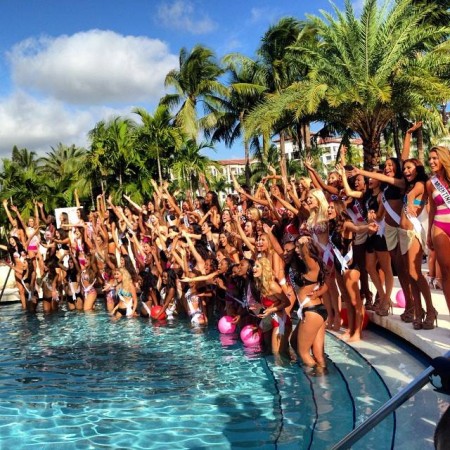 The preliminary competition of the 63rd edition of the Miss Universe beauty pageant will kick start in a few hours and will be live streamed online for viewers.
All the 88 contestants will compete in swimwear and evening gown live during the preliminary competition, which will be held on 21 January at 7pm ET on Wednesday. In India it will be aired on Thursday morning at 5.30 am.
The judges will choose the top 15 contestants based on their performance in the preliminary competition. The top 15 will further compete during the finale night for the Miss Universe 2014 crown.
The finale of the beauty pageant will be held on 25 January at Florida International University in Doral, Miami, USA.
The organisers also announced the panel of preliminary judges, which includes Azucena Cierco, President of Trump Models Corinne Nicolas, TV producer Jeneine Doucette-White, Jimmii Nguyen, TV host Lloyd Boston, former Miss Universe Michelle McLean and Tyler Tixier.
Where to Watch Live Online
The preliminary competition will be live streamed only on the official website of Miss Universe, starting at 7pm ET on Wednesday night (5.30 am Thursday and 12am GMT). Miss Universe 2013 Gabriela Isler and television presenter Roxanne Vargas will host the preliminary competition.
The organisation will also provide live feed on the official Facebook and Twitter pages. The tickets of the event are available on the official website. Click here for more information on tickets.