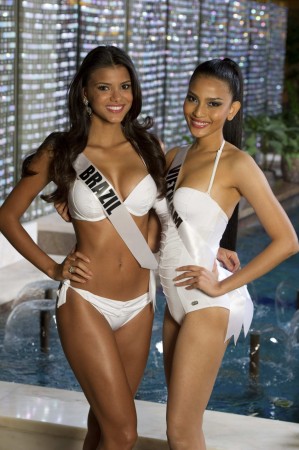 The million dollar swimsuit by Italian swimwear and lingerie brand Yamamay will be revealed on the grand finale night of 9 November, at the Crocus City Hall in Moscow, Russia.
The swimsuit, said to be th world's most expensive of its kind, is made up of emeralds, rubies and diamonds and has travelled from Milan to Moscow, the pageant venue, with armed guards, according to the official website of Miss Universe.
The new Yamamay swimsuit collection for the 2013 Miss Universe competition will honour the glamorous styles that have been donned by the gorgeous contestants at the event.
"The 2013 Miss Universe swimsuit competition will feature the new collection, captivating a viewing audience from around the globe when the million dollar suit takes center stage," the Miss Universe Organisation said in a statement.
The new swimwear will be available online in selected stores from December and across the world from January next year.
The 2013 title holder of the Miss Universe pageant will get the opportunity to wear and model the swimsuit the day after she is crowned.
She will also get a chance to wear the swimsuit during her first official photoshoot and in front of the Miss Universe international press corps, in a press conference at the Crowne Plaza World Trade Centre in Moscow.
The future title holder will also feature in an international advertising campaign to promote the 'Yamamay for Miss Universe' 2014 Summer Collection, which includes two new lines - Timeless and Sparkling.