Miss Universe 2013 winner Gabriela Isler of Venezuela snagged the opportunity to wear the million dollar swimsuit by Italian swimwear and lingerie brand Yamamay.
The newly crowned Miss Universe began her duties in Moscow on Sunday by attending a press conference and unveiling the white swimsuit which was adorned with emeralds, rubies and diamonds.
"Well, first of all I feel very happy to share my first day as Miss Universe with all of us and I feel honoured that I can wear this million-dollar swimsuit because its 0very simple and at the same way it's very elegant, so I feel very proud and very honoured that I can wear it," Isler told reporters during the press conference.
The swimsuit was hand-crafted by jewellery manufacturer - the Dinacci brothers.
At the glittering ceremony on Saturday, Miss Venezuela was crowned Miss Universe 2013. She became the seventh Venezuelan to win the coveted crown.
Last year's winner Olivia Culpo of USA also got the opportunity to wear the swimsuit during the grand finale. On Saturday night, Olivia dazzled on stage in the stunning million dollar swimsuit.
Isler will also star in an international advertising campaign to endorse the 'Yamamay for Miss Universe' 2014 Summer Collection, which includes two new lines - Timeless and Sparkling.
The Yamamay swimsuits will be available in select retail and online stores from December. The collection will be sold in global markets from the beginning of next year.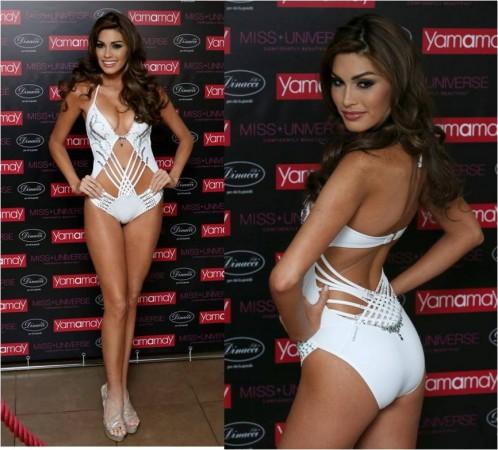 Check the video of press conference here:
Check out Olivia Culpo in million dollar swimsuit: