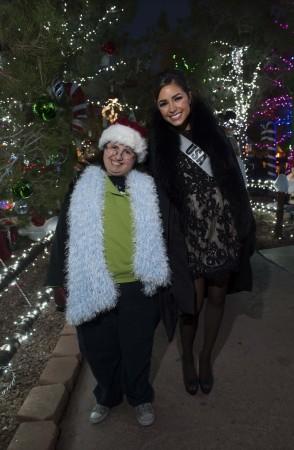 Inmates at Tihar Jail in Delhi had a surprise visit on Monday from Miss Universe 2012 Olivia Frances Culpo, who is currently on a 10-day tour in India.
The American queen is in the country to promote social issues such as the celebration of the girl child, women empowerment and AIDS awareness, according to reports.
On her visit to Tihar Jail, Olivia was accompanied by social activist Sanjana Jon. While talking to inmates, they pledged to stop violence against women.
"I think this is big and beautiful. This is the most beautiful jail I have ever seen. 13,000 people are living here in this paradise and it's nice to see them. I saw slogan on my way don't hit the crime and don't hit the criminal," she told reporters.
She also praised the inmates' green drive initiative saying, "I can only imagine how incredible Tihar will look in another year," according to Press Trust of India.
"You have created such a beautiful cycle. Your work is planting a seed for beautiful future thank you for all that you do! I can only imagine how incredible Tihar will look in another year. God bless," she wrote in the visitor's book.
Olivia spent two hours in Central Jail No 2 where she was given an explaination about the jail factory and the manufacturing of the products inside the jail.
She also attended a cultural programme that was organised by the prison band 'Flying Souls'.
The 21-year-old beauty queen began her India trip last week by visiting Sulabh Gram, a social service organisation in Mahavir enclave, New Delhi. She also participated in a march to create awareness towards AIDS.
Check the video here: