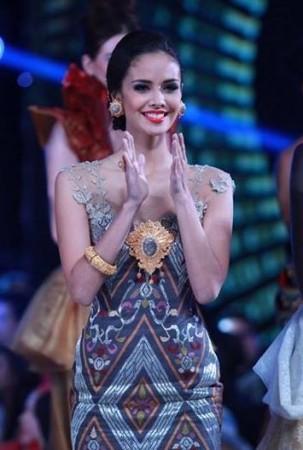 Megan Young from Philippines was crowned Miss World 2013 by last year's winner Wenxia Yu from The Peoples Republic of China on Saturday evening.
Megan Young won the crown after outpacing 126 other contestants from around the world at the glittering ceremony held at the Bali International Convention Centre in Indonesia on Saturday night.
Also Read: Miss World 2013: Megan Young's Crowning Glory in Pictures
Miss France Marine Lorphelin was named runner-up, while Miss Ghana Carranzar Naa Okailey Shooter came third in the contest.
The top 5 finalists at this year's 63rd edition of Miss World beauty pageant were Miss Philippines, Miss Brazil, Miss France, Miss Ghana and Miss Spain.
Miss Gibraltar Maroua Kharbouch won Miss World 2013 Peoples Champion and entered directly into the top 6.
India's contender Navneet Kaur Dhillon failed to make it in the top 20 list. However, she won "Miss Multimedia Award 2013" and finished ninth among the top 10 finalists of "Beauty with a Purpose award".
Young looked gorgeous in a pearl white floor-length mermaid style gown as she was crowned by Wenxia.
The 23-year-old Phillipino beauty is currently studying digital film making. She has worked in films, television shows and as a presenter and wants to become a director in the future.
A big Harry Potter fan, Young enjoys playing video games during free time, according to Miss World Official website.
In the final round, the top six were asked to explain why they deserved to win the Miss World crown, to which Young said: "I will use my core values in my understanding, not only helping others but to show other people how they can understand others and together as one we shall help society."
Here is a list of the winners of other contests:
Miss World 2013 Beauty with a Purpose - Ishani Shrestha, Nepal
Miss World 2013 Talent - Vania Larissa, Indonesia
Miss World 2013 Sportswoman - Jacqueline Steenbeek, Netherlands
Miss World 2013 Multimedia - Navneet Kaur Dhillon, India
Miss World 2013 Beach Fashion - Sancler Frantz, Brazil
Miss World 2013 Top Model - Megan Young, Philippines
Miss World 2013 People Champion - Maroua Kharbouch, Gibraltar
Also Read: Miss World 2013: Megan Young's Crowning Glory in Pictures