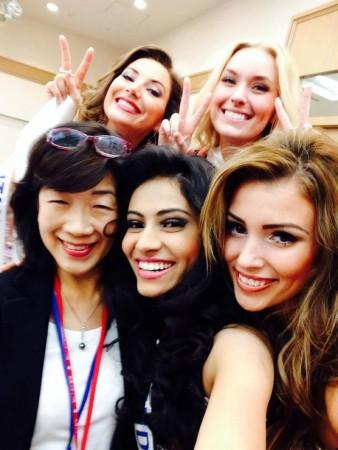 Bea Rose Santiago from Philippines has been crowned the Miss International 2013 in Tokyo today, after the 21-year-old beat 71 contestants to the title.
Last year's winner Ikumi Yoshimatsu of Japan crowned Santiago as the new Miss International.
Miss Netherlands Nathalie den Dekker was the runner-up, while Miss New Zealand Casey Radley came third in the contest.
During the question-and-answer round, the contestants were asked what would they do if they became Miss International, to which Miss Philippines replied: "The whole world saw how my country suffered. One by one, other countries helped. You have opened my heart and eyes on what we can do to help each other. I will work to sustain the spirit of sympathy and spirit of hope. As long as we work together, there is hope."
The grand finale of the 53rd Miss International beauty pageant was held at Shinagawa Prince Hotel Hall in Tokyo, Japan. The event was broadcast live by the Miss International pageant on Ustream.
The top 15 semi-finalists, from the 72 participants, of the 53rd edition of the beauty pageant are from countries: Gibraltar, Brazil, Puerto Rico, Ecuador, Hungary, Netherlands, USA, Philippines, New Zealand, Lithuania, Iceland, Colombia, Russia, Thailand and Spain.
Miss India International Gurleen Grewal failed to make it in the top 15 list.
Top 5 Finalists
Miss Philippines Bea Rose Santiago
Miss New Zealand Casey Radley
Miss Colombia Lorena Hermida
Miss Netherlands Nathalie den Dekker
Miss Hungary Brigitta Ötvos
List of awards and winners
Miss Friendship: Miss New Zealand Casey Radley
National Costume: Miss Aruba Erialda Croes
Miss Internet: Miss Macau Adela Ka-Wai Sou
Miss Photogenic: Miss Lithuania Elma Segzdaviciute