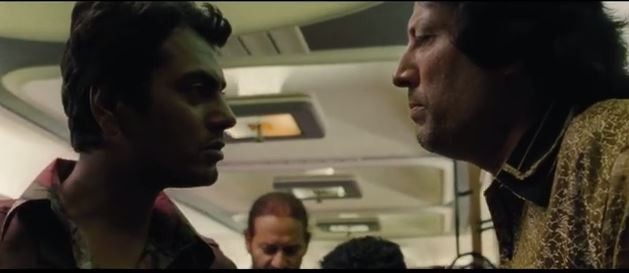 Bollywood's newest release "Miss Lovely" is a drama directed by Ashim Ahluwalia. The film, which has Nawazuddin Siddiqui, Niharika Singh and Anil George in lead roles, has gained mostly positive reviews from critics.
"Miss Lovely" is based on two brothers who produce sex horror films. Set in the mid-1980s the film showcases Bombay's "C" grade film industry.
Read the reviews here:
Mohar Basu of Koimoi.com writes: "Miss Lovely is superbly acted, exquisitely shot and brilliant directed. Donning a sinister look, the film traverses you through the Ramsay-ish era of 80s' Bollywood which is conspicuous of its mystically grey ambiance, sleaze and the horror it entailed. Ahluwalia has made one challenging film which shatter the typecast of commercial movies that this industry comes up with. With its dangerously done climax, the film is extremely bemusing and yet every bit fantastic. A sure shot must watch."
"At the outset, it isn't hard to say that the film is extremely well-researched and extreme care has been taken to ensure that it is fascinatingly well detailed. It manages to get well almost everything right in terms of concept. It is one brilliant premise, left unraveled which the filmmaker accomplishes in harnessing wonderfully.
"Nawzuddin Siddiqui is hands down one of the most animated actors of this generation. But this time Anil George manages to surpass Nawaz by being the enthusiastic, dramatic and essentially natural acting. It is one hell of a compliment to say he stole Nawaz's thunder and I sincerely hope we see of this actor in the days to come. Niharika Singh is marvelous and mysterious is equal measure and definitely rules in her role.
"Films like Miss Lovely are a diminishing species. Brimming with an extravagant concept, the film is made with poise as it captures the dark world of sleaze and horror. I for one found myself with a racing heart and heart in my throat by the end of the film and it takes me quite a cinematic momentum to push to that extent."
Mihir Fadnavis of Firstpost writes: "Some will appreciate Miss Lovely for its experimental arthouse style. Others will hate the film and call it a slow, story-less and pointless exercise in indulgence. But for most desi D-grade horror fans, like me, it's fascinating to see (and hear) how low budget Hindi horror movies were made in the 80s and to delve into the unglamorous world of their production.
"Technically, this is a plot that should make me giddy with delight and transform the very face of 'Bollywood'. But Miss Lovely is a rare movie that is simultaneously terrific and frustrating, because director Ahluwalia just doesn't expand his plot. The story only kicks in the second half and just when it is about to mature into something truly great, Ahluwalia pulls the rug from under your feet and just ends the story, not the film, which continues with a long and indulgent existential slog through the eyes of Sonu.
"Despite its drawbacks, there's plenty of dark and wonderful stuff within Miss Lovely. The atmosphere in the film is both intoxicating and stifling. The moody lighting and ambient sound design render a hypnotic feel to the film.
"The casting and performances are flawless.
"Miss Lovely breaks a lot of Bollywood rules. You can bristle at its indulgences but, I'll still root for a movie that fiddles with the rules over an easy commercial one. Especially if it has a climax that features blood and a Nazia Hassan song."
Madhureeta Mukherjee of The Times of India writes: "'Miss Lovely', unfolds with this premise, set in the Mumbai of 1980's where sleazy, sex-horror films are mass-churned by the thriving C-grade movie industry, with depraved delight and unchaste ambitions.
"Documentary filmmaker Ahluwalia has shot this film in a docu-drama style, with retro-arty feel, taking you into a blast from the past of a bygone era of 'Purana Mandirs' and 'Bandh Darwazas'.Erotic to some, laughable to others. In a bold attempt, he's even used real footage of 80's C-grade films to add raunchiness to his pulpy fiction.
" But the plot unfolds at a lethargic pace, with long-drawn scenes filled in with few dialogues. Some crucial scenes lack the emotional depth and connect you'd expect, inhibiting us from empathising with the protagonists. Nawazuddin shines brilliantly even in the smoky shadows of this sexploitative world, Niharika and Anil play their parts well."
Saibal Chatterjee of NDTV writes: "Dark, disturbing and disorienting, Miss Lovely is the sort of film grips viewers by the gullet and drags them into a claustrophobic crevice. In other words, it isn't an easy film to watch. It demands total attention and a willing surrender to its unusual narrative rhythm.
"The sensibility on display in Miss Lovely is unique but it isn't an overtly arthouse film. Nor is it outright pulp. Stylization and sleaze coalesce organically in Miss Lovely, serving the purpose of depicting a precise time, place and culture in Hindi cinema history.
"What is exceptional is none of the narrative strands stands distinctly apart from the others. They all flow, in an intertwined and overlapping manner, into the overall pastiche.
"The first hour or so of Miss Lovely is marked by camerawork that just is as frenzied as the shifty characters. It then settles down to a steadier tempo even as the drama takes a more intense and dangerous turn.
"Miss Lovely is like an all-out pincer attack that is controlled and perfectly directed.
This film isn't for the squeamish, the lazy and the kind whose cinematic tastes are strictly conservative. But for filmgoers who love cinema that pushes and prods them into new directions, no matter how baffling, Miss Lovely is bound to be a memorable treat."