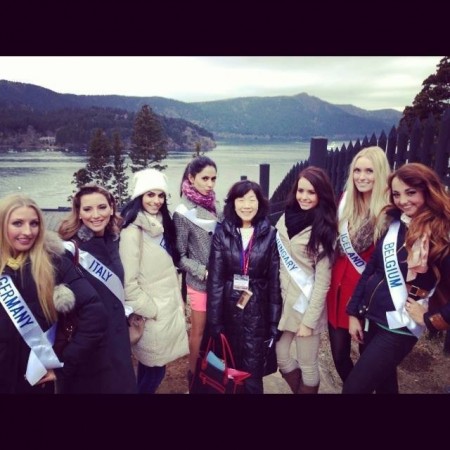 The Miss International 2013 beauty pageant has begun in Tokyo, Japan, on 7 December. Over 72 contestants will compete with each other for the 53rd Miss International title.
Miss International 2012 Ikumi Yoshimatsu of Japan will crown her successor at the finale of the pageant, which will take place on 17 December in Shinagawa Prince Hotel Hall in Tokyo.
This is the second time in a row that Japan is hosting the Miss International beauty pageant.
Miss Diva 2013 first runner-up Gurleen Grewal is competing at the event along with other 71 contestants. The 21-year-old is a student from Chandigarh.
Grewal was schooled in Delhi and later attended Sanatan Dharam College in Chandigarh. The beauty queen loves to go on adventures and exploring new areas.
When asked how she feels about representing India at the global platform, Gurleen told Indiatimes.com, "I feel responsible. While we were in the top 14, I remember, Marc had said, well, that crown is beautiful, but it comes with a lot of responsibility. And now I feel that responsibility. I will be wearing a sash that has INDIA printed on it, and I want to make India proud."
The voting lines for the Miss Internet title have opened. Click here for the voting details.
Miss International beauty pageant began in 1960 under the motto "achieving world peace through mutual understanding". The first beauty contest was held in Long Beach, California, US.
In 1966, the Miss International organisation established "Miss International Foundation" to raise funds and make donations for deprived children across the world, according to the official website of Miss International.