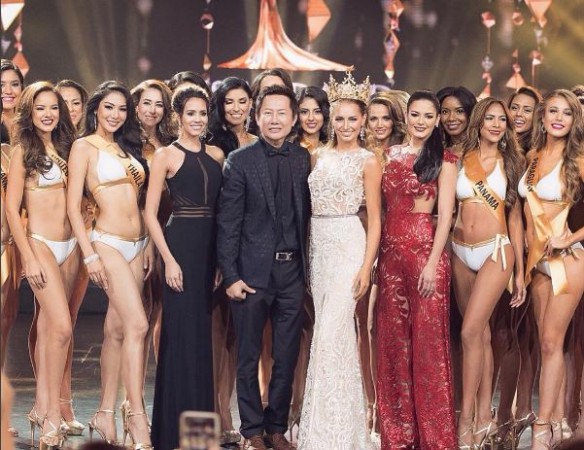 The finale of the 4th edition of the Miss Grand International will take place on October 25 in Los Angeles and one among the 76 contestants from different countries will win the crown.
Miss Grand International 2015 Claire Parker will crown her successor on Tuesday night (Wednesday morning in India) at the Westgate International Theater, Westgate Las Vegas Resort & Casino in Las Vegas, US. The grand finale will kick off at 7:30:00 pm PDT.
The finale will be hosted by American actor and producer, Brian J. White. The crowning ceremony will be broadcast live on TV by the American-Vietnamese broadcaster, VietFace TV. For those who will not be able to watch the event live on TV can view it online on the official Facebook page of Miss Grand International.
In India, the event will be broadcast on Wednesday at 7.30 am, in Japan it will air at 11.30 am on Wednesday, in New York at 10.30 pm on Tuesday, in London, it will be broadcast at 3.30 am on Wednesday and in the Philippines it will be aired at 10.30 am on Wednesday.
Check out the names of the 76 contestants who will compete with each other to win the crown.
Chimay Ramos – Aruba
Dani Fitch – Australia
Selvinique Wright – Bahamas
Kawtar Riahi Idrissi – Belgium
Joselyn Toro Leigue – Bolivia
Renata Sena – Brazil
Monika Horvat – Canada
Siru He – China
Juliana Florez Herrera – Columbia
Monique Rodriguez – Costa Rica
Merys Navarro – Cuba
Monika Vaculíková – Czech Republic
Ida Sjöström—Denmark
Lucero Arias – Dominican Republic
Carmen Verónica Iglesias López – Ecuador
Mireille Azer – Egypt
Cherelle Rose Patterson – England
Merylin Nau – Estonia
Genet Tsegay – Ethiopia
Océane Pernodet – France
Susan Larios Cruz – Guatemala
Rebecca Lau Hoi Yee – Hong Kong
Anna Váradi – Hungary
Arna Ýr Jónsdóttir – Iceland
Pankhuri Gidwani – India
Ariska Putri Pertiwi – Indonesia
Klaodia Khalaf – Iraq
Martina Corrias – Italy
Dianne O. Brown – Jamaica
Ayaka Sato – Japan
Yeseul Cho – Korea
Meldra Rozenberga – Latvia
Aista Maciulyte – Lithuania
Natascha Bintz – Luxembourg
Hio Man Chan – Macau
Ranmeet Jassal – Malaysia
Christine Mifsud – Malta
Ramjaun Sehba – Mauritius
Paulina Flores – Mexico
Alina Staicu – Moldova
Nandar Lwin – Myanmar
Floor Masselink – Netherlands
Cosmiana Brown – New Zealand
Michelle Lacayo – Nicaragua
Rachel Onuwa Ikekhuame – Nigeria
Yasmin Osee Aakre – Norway
Selena Gómez Santamaría – Panama
Cindy Nordmann – Paraguay
Priscila Howard – Peru
Nicole Cordoves – Philippines
Marta Redo – Poland
Ana Bomfim – Portugal
Madison Anderson – Puerto Rico
Ioana Mihalache – Romania
Zatsepina Daria – Russia
Sonia Gisa – Rwanda
Gemma Palmer – Scotland
Sabrina Ng – Singapore
Viktoria Nagy – Slovakia
Caitlin Harty – South Africa
Teresa Yuol – South Sudan
Adriana Sanchez Rivas – Spain
Buddhika Harshani – Sri Lanka
Daryola Brandon – Suriname
Victoria Ericsson – Sweden
Ambre Chavaillaz – Switzerland
Vaiata Buisson – Tahiti
Ri-Xing Zhu – Taiwan
Supaporn Malisorn – Thailand
Diana Osypenko – Turkey
Veronika Mykhailyshyn – Ukraine
Michelle Leon – United States of America
Melina Carballo – Uruguay
Debora Paola Medina – Venezuela
Nguyen Thi Loan – Vietnam
Rachael Tate –Wales