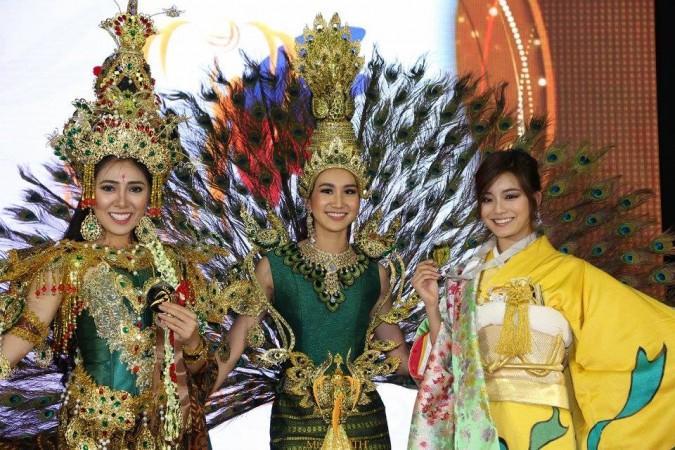 The Miss Earth 2016 contestants, who are gearing up for the finale, sizzled on the stage in their colourful traditional national costumes. The 84 contestants showcased their national costume on Monday at the Century Park Manila in the Philippines.
Miss India Earth Rashi Yadav sizzled on the ramp in an environment-friendly costume. "When colours of India is mixed with an attempt to make an environment-friendly Costume, you term it as 'Fashion for Cause'," she posted on Facebook. Her costume was designed by Payal Jaggi.
However, she failed to make a powerful impression with her national costume, as she was not announced as the winner of National Costume for Asia-Pacific.
Here are the winners of National Costumes and other sub-contests:
National Costume winners for Europe
Gold – Miss England Luissa Burton
Silver – Miss Sweden Cloie Skarne
Bronze – Miss Kyrgyzstan Begim Almasbeková (technically Asia but was grouped with European candidates)
National Costume winners for Asia-Pacific:
Gold: Thailand
Silver: Japan
Bronze: Indonesia
National Costume winners for the Americas:
Gold: Mexico
Silver: Bolivia
Bronze: Ecuador
National Costume winners for Africa:
Gold: Uganda
Silver: South Africa
Bronze: Nigeria
Friendship awardees:
Gold: Bahamas
Silver: Singapore
Bronze: Myanmar
Environmental and Eco-Tourism Presentation winners:
Gold: Team Africa
Silver: Team South America
Bronze: Team Europe
Miss Photogenic
Gold – Miss Vietnam Nguyễn Thị Lệ Nam Em
Silver – Miss Myanmar Nan Khine Shwe Wahwin
Bronze – Miss Venezuela Stephanie de Zorzi
Talent Competition (Group 2)
Gold: Pakistan and Slovenia
Silver: Zimbabwe
Bronze: England
Talent Competition (Group 3)
Gold - Mongolia
Silver - Czech Republic
Bronze – Haiti
Swimsuit competition (Group 1)
Gold: Mexico
Silver: Brazil
Bronze: Croatia
Swimsuit competition (Group 2)
GOLD: USA
SILVER: Russia
BRONZE: Colombia
Long Gown Competition (Group 3)
Gold: Ecuador
Silver: Panama
Bronze: Singapore