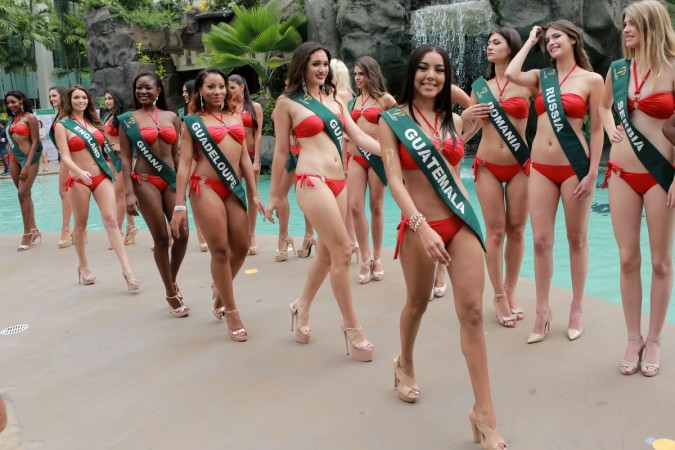 Miss Earth 2016 beauty pageant has reached its finale and soon the winner of this year's beauty contest will be revealed in a grand ceremony, which will be held live on October 29 in the Philippines.
The grand finale will take place at the Mall of Asia Arena in Pasay City, Philippines, on Saturday evening. One among the 84 contestants will be declared the winner, who will be crowned by Miss Earth 2015 Angelia Ong.
Miss Earth 2016 grand finale will be aired live on Star World at 6 pm PHT (3.30 pm IST on Saturday). The ceremony will also be aired live online www.MissEarth.tv and rappler.com. The official Facebook and Twitter pages will also post live updates and photos from the event venue on Saturday evening. The repeat telecast of Miss Earth 2016 will be broadcast on ABS-CBN on Sunday, October 30, at 10 am.
And while you wait for the winner of the Miss Earth 2016, check out the complete list of sub-contest winners.
National Costume winners for Europe
Gold – Miss England Luissa Burton
Silver – Miss Sweden Cloie Skarne
Bronze – Miss Kyrgyzstan Begim Almasbeková (technically Asia but was grouped with European candidates)
National Costume winners for Asia-Pacific:
Gold: Thailand
Silver: Japan
Bronze: Indonesia
National Costume winners for the Americas:
Gold: Mexico
Silver: Bolivia
Bronze: Ecuador
National Costume winners for Africa:
Gold: Uganda
Silver: South Africa
Bronze: Nigeria
Friendship awardees:
Gold: Bahamas
Silver: Singapore
Bronze: Myanmar
Environmental and Eco-Tourism Presentation winners:
Gold: Team Africa
Silver: Team South America
Bronze: Team Europe
Miss Photogenic
Gold – Miss Vietnam Nguyễn Thị Lệ Nam Em
Silver – Miss Myanmar Nan Khine Shwe Wahwin
Bronze – Miss Venezuela Stephanie de Zorzi
Talent Competition (Group 2)
Gold: Pakistan and Slovenia
Silver: Zimbabwe
Bronze: England
Talent Competition (Group 3)
Gold - Mongolia
Silver - Czech Republic
Bronze – Haiti
Swimsuit competition (Group 1)
Gold: Mexico
Silver: Brazil
Bronze: Croatia
Swimsuit competition (Group 2)
GOLD: USA
SILVER: Russia
BRONZE: Colombia
Long Gown Competition (Group 3)
Gold: Ecuador
Silver: Panama
Bronze: Singapore