The 16th edition of the environmental event of the year, Miss Earth 2016, has kicked off with the unveiling of the 84 contestants of the beauty pageant in the Philippines. This year, 84 contestants from across the world are participating in the Miss Earth beauty pageant.
The contestants made their first stunning appearance in red swimsuits during a media briefing. These contestants will participate and compete in various environmental activities to win the Miss Earth 2016 crown.
"We have a busy yet meaningful schedule prepared for the delegates this year," Carousel Productions executive vice-president and founder of Miss Earth Lorraine Schuck said in a statement. "The delegates will visit several provinces all over the Philippines and explore our ecotourism destinations.
"These are not just mere leisure activities. They will have the chance to meet with the locals and learn how these ecotourism spots are protected," Schuck added.
The winner of the Miss Earth 2016 beauty pageant will be revealed on October 29 at the MOA Arena in Pasay City. Miss Earth 2015 Angelia Ong will crown the winner of this year's beauty pageant on October 29 in a grand final ceremony.
Check out the list of contestants below: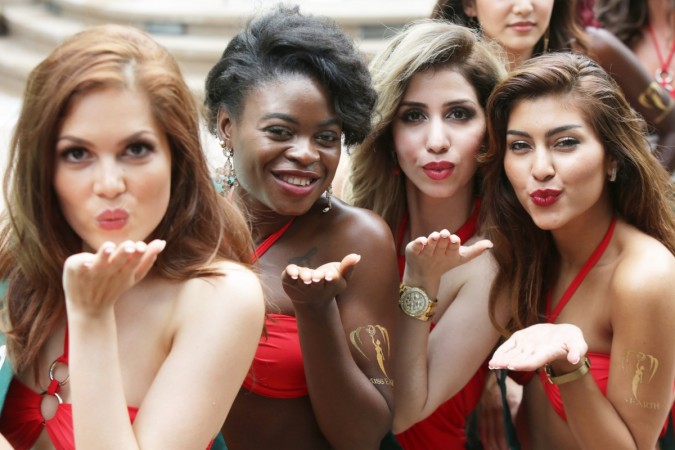 ARGENTINA Lara Bochle
AUSTRALIA Lyndl Kean
AUSTRIA Kimberly Budinsky
BAHAMAS Candisha Rolle
BELGIUM Fenne Verecas
BELIZE Chantae Chanice Guy
BOLIVIA Eliana Villegas
BOSNIA & HERZEGOVINA Ivana Perisic
BRAZIL Bruna Zanardo
CANADA Tamara Jemuovic
CHILE Tiare Fuentes
CHINA Xiaohan Gang
CHINESE TAIPEI Le Chiao Peng
COLOMBIA Michelle Gomez
COOK ISLANDS Allanah Herman‐Edgar
CROATIA Nera Torlak
CYPRUS Maria Costa
CZECH REPUBLIC Kristýna Kubíčková
DENMARK Klaudia Parsberg
DOMINICAN REPUBLIC Nicole Jimeno
ECUADOR Katherine Espín
ENGLAND Luissa Burton
GHANA Deborah Eyram Dodor
GUADELOUPE Méghan Monrose
GUAM Gloria Nelson
GUATEMALA Stephanie Sical
HAITI Valierie Alcide
HUNGARY Eszter Oczella
INDIA Rashi Yadav
INDONESIA Luisa Andrea Soemitha
IRAQ Suzan Amer
ISRAEL Mira Kahli
ITALY Denise Frigo
JAPAN Ami Hachiya
KENYA Grace Wanene
KOREA Chae-Yeung Lee
KOSOVO Andina Pura
KYRGYZSTAN Begim Almasbeková
LEBANON Carole Kahwagi
MACAU SAR, CHINA Clover Zhu
MALAYSIA Venisa Judah
MALTA Natalya Galdes
MAURITIUS Amber Korimdun
MEXICO Itzel Paola Astudillo
MOLDOVA Tatiana Ovcinicova
MONGOLIA Enkhbor Azbileg
MYANMAR Nang Khine Shwe Wah Win
NAMIBIA Elize Shakalela
NEPAL Roshani Khatri
NETHERLANDS Deborah van Hemert
NEW ZEALAND Janelle Nicholas-Wright
NIGERIA Chioma Precious Obiadi
NORTHERN IRELAND Julieann McStravick
PAKISTAN Anzhelika Tahir
PALESTINE Natali Rantisi
PANAMA Virginia Hernandez
PARAGUAY Vanessa Alexandra Ramírez
PERU Brunella Fossa
PHILIPPINES Imelda Schweighart
POLAND Magdalena Kucharska
PORTUGAL Alexandra Marcenco
REUNION ISLAND Meli Sheryam Gastrin
ROMANIA Crina Stinca
RUSSIA Alexandra Cherepanova
SERBIA Teodora Janković
SIERRA LEONE Josephine Kamara
SINGAPORE Manuela Bruntraeger
SLOVAK REPUBLIC Kristina Sulova
SLOVENIA Maja Ana Strnad
SOUTH AFRICA Nozipho Magagula
SRI LANKA Disna Edirirathne
SURINAME Svetoisckia Brunswijk
SWEDEN Cloie Skarne
SWITZERLAND Manuela Oppikofer
THAILAND Atcharee Buakhiao
UGANDA Priscilla Achieng
UKRAINE Alona Belova
URUGUAY Valeria Barrios
USA Corrin Stellakis
VENEZUELA Stephanie De Zorzi
VIETNAM Nguyen Thi Le Nam Em
WALES Charlotte Hitchman
ZAMBIA Ketty Kabaso
ZIMBABWE Sharon Enkromelle