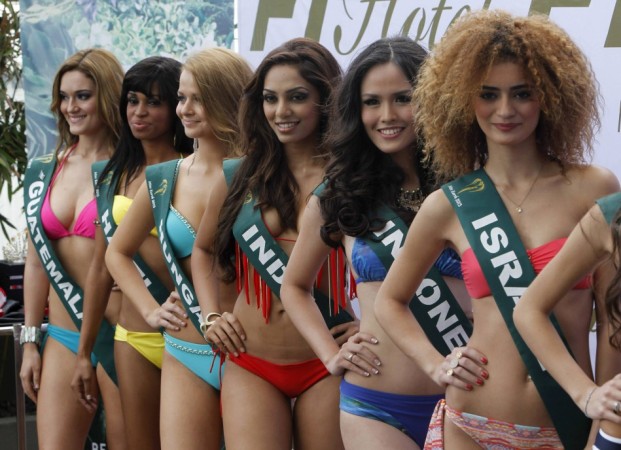 The Miss Earth organisation has revealed the top 15 finalists of the Resorts Wear round which was held on 29 November at Hotel PonteFino, Batangas, in Philippines.
The 15 finalists were selected after the delegates of the Miss Earth 2013 pageant flaunted their bodies in their most fashionable resort wear.
Miss India Earth 2013 Sobhita Dhulipala was among the top five finalists of the Resort Wear preliminary round from group 2. The other contestants who made it in the top five are: Miss Bolivia, Miss France, Miss Martinique and Miss Mexico, according to the official Facebook page of Miss Earth 2013.
The winner of the Resorts Wear Competition will be selected on Sunday (1 December) night. The final Resorts Wear Competition will be held at F1 Hotel Manila in Philippines.
The Miss Earth 2013 is the 13th edition of the beauty pageant. The pageant was started in 2001 by Carousel Productions Inc with the aim to promote protection of the environment.
More than 80 to 90 contestants from different countries participate in the beauty contest.
The finale of the Miss Earth 2013 pageant will take place on 7 December at the Versailles Palace in Alabang, Muntinlupa City, Philippines. Miss Earth 2012 Tereza Fajksová from Czech Republic will crown this year's winner during the grand finale night.
Here is the list of top 15 finalists of Resorts Wear preliminary competition:
1. Miss Bolivia - Maria Rene Carmona
2. Miss France - Sophie Garenaux
3. Miss India - Sobhita Dhulipala
4. Miss Martinique - Rani Charles
5. Miss Mexico - Kristal Silva
6. Miss Mongolia - Bayartsatsral Baljinnyam
7. Miss Philippines - Angelee delos Reyes
8. Miss Poland - Aleksandra Szczesna
9. Miss Russia - Olesya Boslovyak
10. Miss Serbia - Andjelka Tomasevic
11. Miss Slovak Republic - Lucia Slaninkova
12. Miss Sweden - Denice Andree
13. Miss Thailand - Punika Kulsoontornrut
14. Miss Ukraine - Anatasia Sukh
15. Miss Venezuela - Alyz Henrich