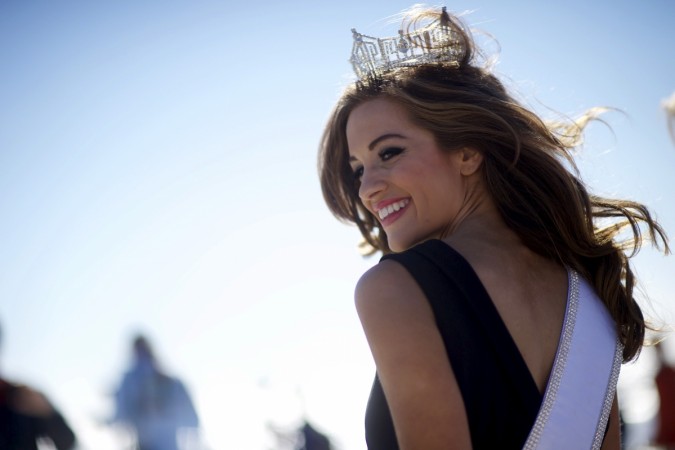 In a few hours, one among 52 contestants will be crowned Miss America 2017. The grand finale of the beauty pageant, which has been running since 1921, will take place on Sept. 11, at Boardwalk Hall in Atlantic City, New Jersey.
"The Bachelor" host Chris Harrison and "NBA Countdown" host Sage Steele will co-host the event on Sunday. Grammy winner Ciara, entrepreneur Mark Cuban, Olympic gold medallist Gabby Douglas, actress Sara Foster (VH1's Barely Famous), musician and actress Laura Marano, singer-songwriter Cole Swindell, and former Miss America Sharlene Wells Hawkes will judge the beauty pageant.
The winner of Miss America beauty pageant will get a $50,000 college scholarship. Miss America 2016 Betty Cantrell will crown her successor in a glittering ceremony on Sunday at 9 pm ET.
The event will be broadcast live on ABC from the Boardwalk Hall. The Twitter and Facebook pages of Miss America will also provide live updates and photos of the Miss America 2017 grand finale.
For the first time, an openly lesbian contestant, Miss Missouri Erin O'Flaherty, is participating in the event this year. "Behind the scenes, we've been well-represented, but I'm the first openly gay title holder, so I'm very excited," O'Flaherty told the Associated Press.
"I knew going in that I had the opportunity to make history. Now, I get to be more visible to the community and meet more people," she added.
Here is the list of 52 contestants from across the states:
Miss Alabama 2016 Hayley Barber
Miss Alaska 2016 Kendall Bautista
Miss Arizona 2016 Katelyn Niemiec
Miss Arkansas 2016 Savvy Shields
Miss California 2016 Jessa Carmack
Miss Colorado 2016 Shannon Patilla
Miss Connecticut 2016 Alyssa Rae Taglia
Miss Delaware 2016 Amanda Debus
Miss District of Columbia 2016 Cierra Jackson
Miss Florida 2016 Courtney Sexton
Miss Georgia 2016 Patricia Ford
Miss Hawaii 2016 Allison Carol Nanea Chu
Miss Idaho 2016 Kylee Solberg
Miss Illinois 2016 Jaryn Franklin
Miss Indiana 2016 Brianna DeCamp
Miss Iowa 2016 Kelly Koch
Miss Kansas 2016 Kendall Schoenekase
Miss Kentucky 2016 Laura Jones
Miss Louisiana 2016 Justine Ker
Miss Maine 2016 Marybeth Noonan
Miss Maryland 2016 Hannah Brewer
Miss Massachusetts 2016 Alissa Musto
Miss Michigan 2016 Arianna Quan
Miss Minnesota 2016 Madeline Van Ert
Miss Mississippi 2016 Laura Lee Lewis
Miss Missouri 2016 Erin O'Flaherty
Miss Montana 2016 Lauren Scofield
Miss Nebraska 2016 Aleah Peters
Miss Nevada 2016 Bailey Gumm
Miss New Hampshire 2016 Caroline Carter
Miss New Jersey 2016 Brenna Weick
Miss New Mexico 2016 Stephanie Chavez
Miss New York 2016 Camille Sims
Miss North Carolina 2016 McKenzie Faggart
Miss North Dakota 2016 Macy Christianson
Miss Ohio 2016 Alice Magoto
Miss Oklahoma 2016 Sarah Klein
Miss Oregon 2016 Alexis Mather
Miss Pennsylvania 2016 Samantha Lambert
Miss Puerto Rico 2016 Carole Rigual
Miss Rhode Island 2016 Shruti Nagarajan
Miss South Carolina 2016 Rachel Wyatt
Miss South Dakota 2016 Julia Olson
Miss Tennessee 2016 Grace Burgess
Miss Texas 2016 Caroline Carothers
Miss Utah 2016 Lauren Wilson
Miss Vermont 2016 Rylee Field
Miss Virginia 2016 Michaela Gabriella Sigmon
Miss Washington 2016 Alicia Cooper
Miss West Virginia 2016 Morgan Breeden
Miss Wisconsin 2016 Courtney Pelot
Miss Wyoming 2016 Jordyn Hall
·