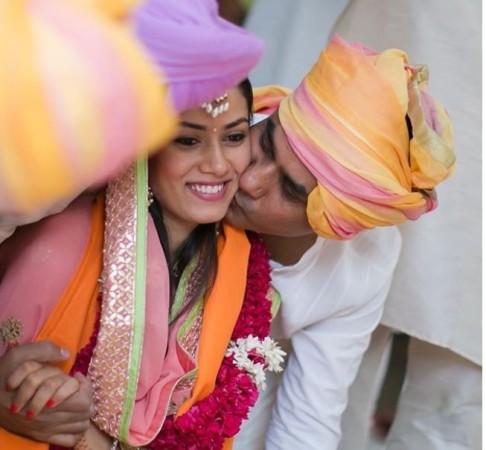 Mira Rajput who got married to Shahid Kapoor in 2015 shared an adorable picture with her father Vikramaditya Rajput where he is seen kissing his daughter.
A beautiful candid picture, which is beautiful beyond words, perfectly defines father-daughter relationship. She captioned the picture as: "The blast from the past came with a side of an emotional post on Mira's part: "My strength and weakness #Dad." [sic.]
Shahid and Mira have a daughter Misha (combination of their names) who turned one in September last year.
Talking about Misha in an interview, Mira said: "I think I am much better than I used to be (smiles). I am quite used to the paparazzi, because these days, they are literally everywhere, regardless of whether I am going to the gym, taking Misha (their daughter) to her playschool, or just running some errands. I think that's something one has to deal with because it's the reality."
She also spoke about how Shahid Kapoor as a father. "Shahid's relationship with Misha started right from the moment when he got to know that I was pregnant. Fatherhood comes naturally to him. He is fully involved and he changed her diaper even before I did. Shahid wants to be connected to her always and I think that's great. Misha is going to have him wrapped around her little finger," she said.
Mira Rajput grabbed headlines when she said that Misha is not a puppy as she talked about working moms on the occasion of International Women's Day.
Meanwhile, earlier this month, Shahid told Deccan Chronicle, while speaking about his marriage, "She (Mira) has changed my life completely. She has turned me into a domestic animal. Earlier, I used to be a wild animal running around in the open fields. Now I am leading a disciplined life – there's a definite time to eat, sleep and work.''
Shahid made a stylish appearance with wife Mira on BFFs with Vogue which is hosted by Neha Dhupia. In a segment called 'Platter of Punishment' Mira candidly said that one actress who really needs a stylist is Vidya Balan!