Shahid Kapoor recently got trolled on social media for making a comment regarding his age difference with wife Mira Rajput.
Shahid and Mira make a beautiful couple, and their PDA often makes fans go "aww". However, their age gap of over 10 years was also discussed at length before and after their marriage.
Now, Shahid himself has commented on the age difference between him and his wife, and it has not gone down well with many.
Shahid at a recent event was asked what the naughtiest thing he has done was. The actor responded saying: "At the age of 18, I had no idea that I will be married to a girl who was five years old when I was 18. I guess that's the naughtiest thing I have done."
Although the comment was made on a funny note, many on Twitter found it "cringy", "creepy" and "stupid". Many felt Shahid was obsessed with the fact that he married someone who is around 14 years younger than him.
One person shared a newspaper clip of his statement on Twitter, following which a series of comments poured in ridiculing the Udta Punjab actor. Some opined that Shahid must have thought his comment was very cool, but it sounds stupid. Some even called him "butthead".
However, there are some who supported Shahid saying this comment was made in humour, and there was no reason for anyone to react to it this way. Some said their age difference was a fact, and so there was no harm in talking about it.
The way he goes on n on about his baby wife is creepier than Milind Soman imo

— Ria (@tweetria) December 24, 2017
My parents are 13 years apart. They don't make it sound this weird...

— Gods Fool (@GodsWritingFool) December 24, 2017
why being so dramatic about a thing that's said in a fun way? now a days people get offended on anything & everything. seriously!

— Adnan Ahmed Hashmi (@PerfectlyAdnan) December 24, 2017
I hear he fired his PR team. Guess this is what happens when you do your own PR

— Deepti Dani (@deepsdani) December 26, 2017
People have a habit of getting annoyed and offended on everything under the sun these days. He is simply stating a fact in a humorous way, I have no idea what is problematic in it.

— Chetan Agarwal (@Chetan_Agarwa1) December 26, 2017
Don't see anything wrong in that. When it's a fact, y be hypocritical about it. In a way it's cool to say something what he said

— devilsadvocate (@blendsinglemalt) December 24, 2017
Sounds like a paedophile...though am sure he isn't but what a stupid thing to say...

— Gaurav Aggarwal (@agauravlaw) December 26, 2017
This is not the first time Shahid's comment about his wife left many wondering if the actor thinks at all before speaking. Earlier, he had said that Mira has made him a "domestic animal".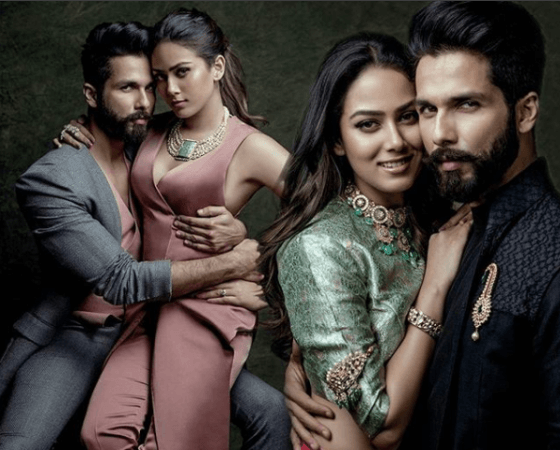 "She (Mira) has changed my life completely. She has turned me into a domestic animal. Earlier, I used to be a wild animal running around in the open fields. Now I am leading a disciplined life – there's definite time to eat, sleep and work," he had told a popular publication.
Although Shahid's intention always is to praise Mira, his choice of words is something he should work upon.