#SinceWeMadeItPossible, the twitter hashtag Lamborghini is using to make a buzz around the launch of its SUV model, the Urus, is more than accurate. For Lamborghini enthusiasts, an SUV model from the sportscar specialist is sheer blasphemy. Whether the Lambo fan in you like it or not, the Italian carmaker is unveiling the Urus SUV on December 4 at its new factory in Sant'Agata Bolognese.
Ahead of the global unveiling, chaps at Motor Trend had the opportunity to take the Urus out for a quick spin and the technical specifications they have revealed indicates, the Urus will set the bar high for super luxury SUV game.
Lamborghini has previously confirmed that the mill powering Urus will be Volkswagen Group's latest 4.0-litre twin-turbocharged V8. The mill develops 650hp of power and whopping 850Nm of torque. The mill will be mated to an eight-speed ZF automatic transmission benefiting from a torque converter, which is debuting in a Lambo car. The power will be transmitted to all four wheels and there will be selectable driving modes that will ensure extreme off-road usability of the SUV.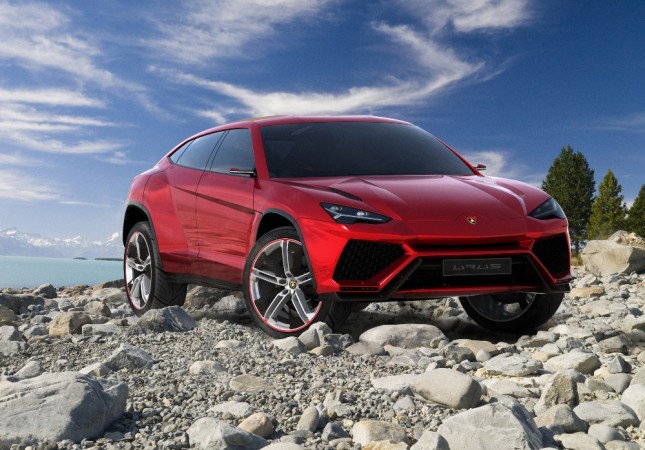 Lamborghini has hinted that it can reach 100kmph speed in just 3.7 seconds which is a supercar territory. In addition, Urus is expected to come with a rated top speed of 328kmph. If the company achieves this number, Urus will be the world's fastest SUV beating Bentley Bentayga with a top speed of 301kmph.
The Urus will be lighter than many of its rival SUVs with the extensive usage of the carbon-fibre-reinforced polymer. This is despite the fact that it will be based on the same platform as Audi Q7, Bentley Bentayga, Porsche Cayenne and Volkswagen Touareg.
Motor Trend also confirms the Urus will flaunt 'largest brakes in the world' with massive 17.3-inch carbon ceramic rotors for the front axle paired with 10-piston callipers. The rear wheels will get 14.6-inch discs coupled with four pistons. The tyres will be 21-inch units as standard while there will be options to upgrade to a 22-inch set or even 23-inch alloys.