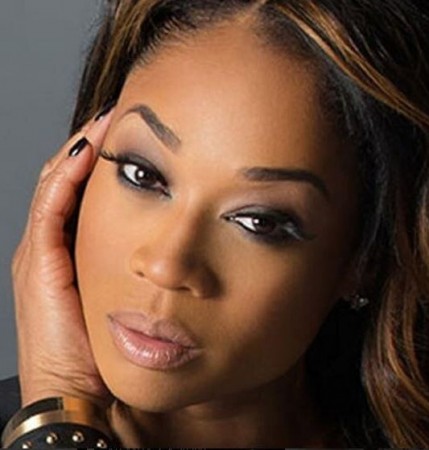 Mimi Faust, one of the cast members of "Love & Hip Hop: Atlanta", has released her sex tape with beau Nikko Smith. The video, titled "Mimi & Nikko: Scandal in Atlanta", has grabbed attention from people all over the world.
The video, featuring the reality star and her boyfriend, has been sold to porn giant Vivid Entertainment.
"From the minute we heard about this tape, we wanted it," Hollywood Life quoted Vivid Entertainment founder Steve Hirsch. "The authenticity of Mimi and Nikko's relationship is obvious. There's no mistaking their passion; it's real."
"Love and Hip Hop" producers have given their full support to the couple, and are hoping for a good storyline for season 3 which is going to air from 5 May. However, Faust and Smith's co-stars are not happy with the leaked video as they are grabbing all the attention.
"Real talk, they're jealous of the fame she's getting off it but they don't have the balls to do one themselves. This came out of left field. Like, Mimi dropped a bomb and it exploded big time," the website quoted a source.
The video is yet to go on sale but the trailer and raunchy pictures of the couple have gone viral. Hirsch said that the video would be a blockbuster hit online.
"After doing some research, I realized just how big both the show and the tape could be. It was a struggle to ultimately get the deal done but we did. And this tape will be huge. Massive," Hirsch stated.
Meanwhile, the video has invited criticism from Faust's fans who labeled her "desperate and pathetic".
(Ed: VP)
Mimi is 40 years old with a daughter like it's a wrap hun! That fame ain't gonna last long from a bs Love & HipHop show it's just not...

— CelebrityFamous (@MyFamous2012) April 16, 2014
Seeing people defend @MimiFaust just reinforces the fact y i hate people

— Tommy Gunz ♫♫♫ (@TommyGunzLLMG) April 16, 2014
So #MimiFaust response was "If u don't pay my bills, shush" ...well thats it then, we'll all b on our merry way & pretend we didnt see u >.<

— Rebel With A Cause (@LaSugarlace) April 16, 2014