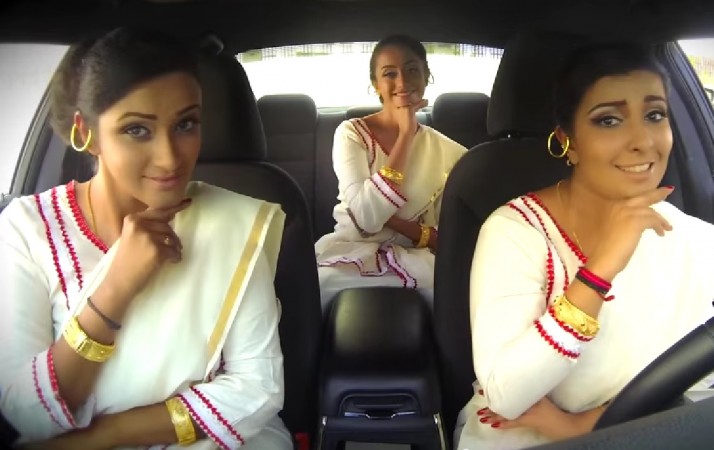 Ever since SketchSHE's "Mime Through Time" video became viral on social media, it was followed by similar versions across the world, including a desi Bollywood version.
Now the latest entrant among the lot is the Malayalam version that hit the internet on Thursday, 30 April. The YouTube video, which received about 10,000 views till the time of reporting, was created by Gold FM 101.3 Radio Staion in UAE.
Gold FM, which is the latest addition to UAE's Channel 4 Radio Network, was launched five years ago to cater to the Malayali diaspora in the Gulf country.
Like the previous verisons, "Mime Through Mollywood" is also an in-car lip-dub video featuring a female trio - Neena, Binju and Deepa - who are radio jockeys at the UAE-based radio station.
The three-and-a-half-minute video is a music compilation ranging from the evergreen "Nin Padangalil Nrithamadidum" song of Prem Nazir's "Nazhikakkallu" (1970) to the recent "Enne Thallendammaava" of Nivin Pauly's "Oru Vadakkan Selfie".
Other notable songs include "Cham Chakka Choom Chakka" (Love in Singapore - 1980), "Oru Madhurakinavin" ("Kanamarayathu" - 1984) and Kasthuri Ente Kasthuri (Vishnulokam - 1991).
Meanwhile, the original SketchSHE video, performed by Australian female trio, went viral globally last month with over 24 million views. And the desi version posted by Bengaluru-based The Enthu Cutlets, has received over one million views.
Watch 'Mime Through Mollywoood' Lip-Dub Video Below: