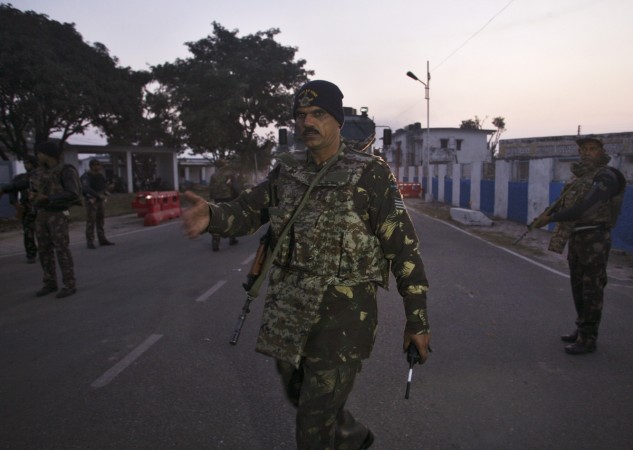 Update: 9:00 p.m. IST: Two CRPF jawans were killed in the attack on their convoy near Srinagar on Saturday. Three terrorists are still reportedly holed up inside a government building complex of the Entrepreneurship Development Institute.
All civilians have been safely evacuated, Jammu & Kashmir police chief K. Rajendra told The Hindu.
Update: 6.36 p.m. IST: One CRPF personnel has been killed and 11 others injured in a militant attack on the ouskirts of Srinagar on Saturday.
At least three militants opened fire on a CRPF bus. They later stormed the Jammu and Kashmir Entrepreneurship Development Institute (EDI) building and are believed to be holed up there.
At least 15-20 civilians are trapped inside the building, while almost 80 have been evacuated, reported NDTV.
Original Story: At least three militants opened fire on Saturday on a bus carrying Central Reserve Police Force (CRPF) personnel near an academic institute in Pampore, Kashmir. The militants later stormed inside the institute where civilians were present.
The Army has been deployed in the area for rescue operations.
According to ANI, seven CRPF men were injured in the incident, which took place near the Jammu and Kashmir Entrepreneurship Development Institute (EDI).
The militants also stormed the institute, where almost 100 people, including faculty members and students, were present. They are being evacuated. At least two militants are believed to be holed up inside the institute.
"We were asked by the militants to clear the building. We were around 100 trainees and trainers there. We have shifted to nearby hostel building but remain trapped as firing is on," Ishfaq Mir, an EDI employee, told the Hindu. "Three to four employees are still trapped in the building," he added.
A CRPF camp near EDI is believed to be the target of the militants. According to reports, one militant has been nabbed and the institute area has been cordoned off.
The encounter between militants and security forces is on.
Former chief minister Omar Abdullah on Saturday tweeted saying, "Praying this news is wrong. All JKEDI does is train youngsters to look beyond government jobs & become entrepreneurs (sic)."