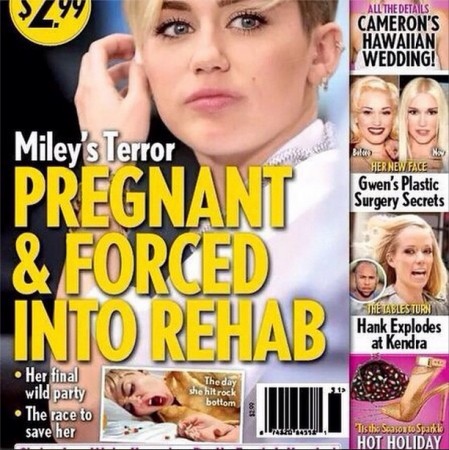 Pop singer Miley Cyrus has slammed the pregnancy rumours by posting a sarcastic message on Instagram with the cover photo of Life & Style magazine.
"Those 3 days I was off Instagram I got pregnant and went to rehab. I was am super busy sorry guys. I know how much you missed my edits," wrote the celeb.
The 22-year-old even posted an image of herself smoking pot with the title "3pm on A Monday in space".
Cyrus' pregnancy rumours popped-in with the release of Life & Style magazine's December issue, wherein the publication reported that the Disney star is pregnant and forced into rehab for being addicted to marijuana.
The tabloid went on to state that the "Wrecking Ball" singer had missed menstrual cycle and quoted a source, "Her period is late. Miley gave up drinking and smoking pot for a few weeks because of it, but she's having a hard time saying 'No.' Some people believe that she'd need professional help to stay sober for nine months," reported Gossip Cop.
However, this is not the first time "The Last Song" star is facing pregnancy rumours about herself. The celeb, who is dating Patrick Schwarzenegger for last two months, was hit by same reports in last April.
Though Schwarzenegger is tight lipped on the speculations about his girlfriend, the gossip has sparked some interest among Cyrus' fans.
Here are some of the interesting comments by her Instagram followers:
Savvy
Hahaha this is why I adore you more than life itself. You're forever.
Taylor Bensel
Maybe our babies can grow up together.
Ariana Chappy
OMG are you PREGOSSSS?????????