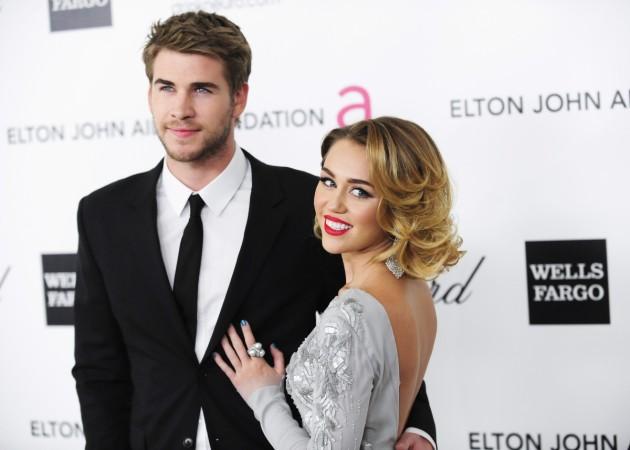 Miley Cyrus and Liam Hemsworth were reportedly planning to get married this fall, but looks like their will wedding will be postponed again. Liam's family apparently doesn't approve of his girlfriend Cyrus, according to a new report.
Liam's brother Chris Hemsworth is not very fond of Cyrus. Chris is polite with her, hangs out with her and doesn't give her the cold shoulder, but he is worried about her influence on his children, OK! Magazine reported.
"Chris doesn't love Miley's potty mouth. But he doesn't want to drive his brother away," the magazine quoted a source as saying.
The magazine further claimed that waiting for Hemsworth's family's approval will put their wedding on hold for some time. Cyrus and Liam initially planned to get married in the summer in Australia, but the singer decided to get married this fall.
Cyrus and Liam's wedding is expected to be an intimate affair with only family and friends attending it. "Miley is pretty adamant about having a small, private ceremony," a source close to the couple told Us Weekly. "But Liam wants a really big wedding, so I'm sure they'll come to a compromise."
Cyrus and Liam rekindled their romance earlier this year after breaking up two years ago. They got engaged in 2012, but soon ended their relationship.
"Of course it was hard, man. But we were both going in different directions and it's just what needed to happen. We were both super young and it was a good decision at the time — we both needed that," Liam said about the breakup in an interview with GQ Australia.