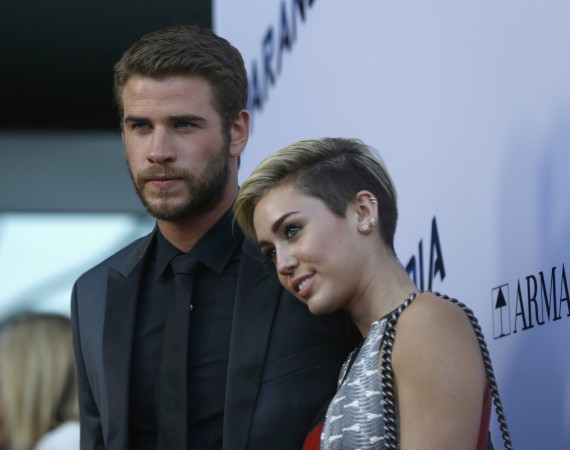 A new bling on the left hand of Miley Cyrus caught everyone's attention Saturday. Cyrus, who was at the New York Knicks vs Cleveland Cavaliers game in New York City with her mother Tish and sister Brandi, was is a great mood, and smiled and posed for the cameras. She even took selfies with adoring fans.
The latter were, of course, thrilled to discover that Cyrus has got engaged to Liam Hemsworth. The wedding date and other information remains secret for now. But the news of the two getting back together was doing the rounds since this New Year's Eve. While they were spotted getting cosy many times, the news has finally been confirmed and made official.
Fans will remember how the couple's break-up in 2013 became huge news. Following this, Cyrus even became famous for appearing at big events in near-nude attires and onsies. During their break-up, Cyrus had also come out as a bisexual and dated Victoria's Secret Angel Stella Maxwell.
Also Read: Rare, adorable photos of Trace Cyrus and girlfriend Brenda Song
However, Cyrus and Hemsworth rekindled their romance on the New Year's Eve of 2016, and she even spent quality time with Hemsworth's sisters-in-law earlier this year. Now along with the Hemsworths, the Cyrus family also seems to be approving of the impending wedding, as is evident below from Brandi's Instagam post.