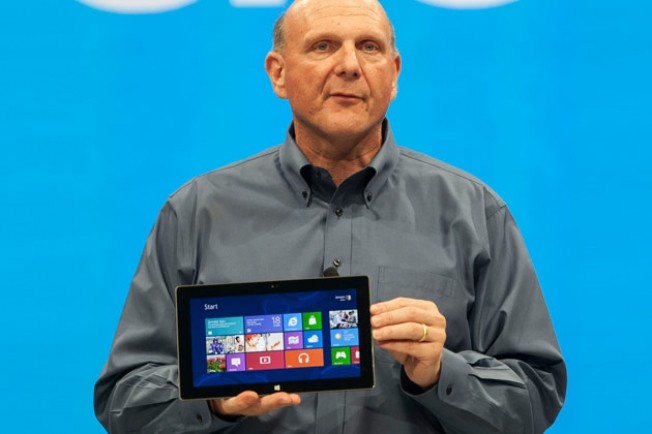 World's leading software maker Microsoft on Thursday posted its revenue results for the second fiscal quarter.
The Redmond-based company reported that its revenue stood at $21.5 billion for the quarter ending on Dec 31, 2012. Operating income and diluted earnings per share for the quarter were $7.77 billion and 76 cents per share, respectively.
The company's net income slid down to $6.38 billion in the period, down from $6.6 billion a year ago.
The revenue dip is attributed to the 10 percent decline in Microsoft Office sales which is facing a temporary pause due to the impending launch of the new version of Microsoft Office in the first quarter of 2013.
The saving grace which helped the Microsoft post a profit is attributed to the late surge in the Windows 8 OS demand. The company reported that it sold over 60 million licenses of Windows 8 OS since its release in October last year. The Windows division posted revenue of $5.88 billion, a 24 percent increase compared to last year.
Microsoft failed to disclose the revenue generated from its flagship Surface tablet which was launched at a lavish event in October last year.
The Entertainment and Devices division, which is responsible for Xbox consoles, posted revenue of $3.77 billion, down 11 percent compared to last year.
Soon after Microsoft reported its meager second quarter profits, its shares slid to $27.06 in after-hours trading, after closing at $27.23.
Despite Microsoft's average 2012 report sheet, the year 2013 looks promising on four reasons:
The new version of Microsoft Office is expected to be released soon, the ubiquitous software has been a cash cow for the company since its inception and the new version is hailed to bring in more revenues in the next quarter.
Few days back, Microsoft announced that the second iteration of the Surface Pro tablet will be released early next month. The new tablet is expected to revive the weak tablet sales.
Speculations are rife that Microsoft is contemplating to bring in new Surface tablets in various sizes and other budget tablets in the coming future to reach out to more consumers.
The record worldwide sales of Nokia's Windows-based Lumia smartphones have revived Microsoft's Windows Phone OS chances of gaining a formidable foothold in the global mobile OS market.
As per the latest NASDAQ report (Jan 24), Microsoft's share value is currently hovering over the $27.63, up 0.07 percent.
(With inputs from Reuters)