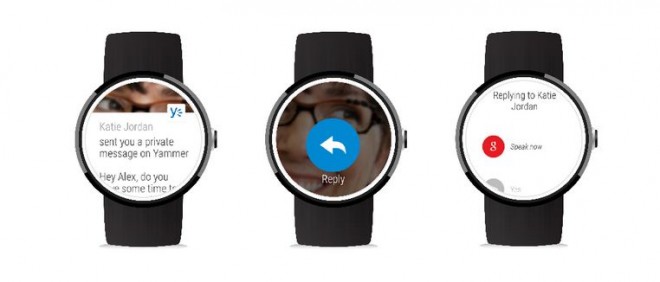 Microsoft updated its Yammer social network apps for Android and iOS devices on Monday.
With the latest update in place, the Yammer social network apps will now support Android Wear and Handoff. You can now download the new mobile version of Microsoft's freemium social networking service.
Carlos Bohórquez Marín, product marketing manager for the Yammer team, writes: "We've been focused on delivering weekly enhancements to the Yammer mobile apps for iOS and Android, including profile and group viewing/editing, improved search and notifications, integrated message translation to 25 languages, performance and reliability gains and much more."
As far as the changes are concerned, for Android, with the Android Wear support online for the Yammer apps, users will be able to read and like team messages directly via their smartwatches. They can even reply using Google voice commands. To get started, just install Yammer on your Android phone, it will be seamlessly extended to your Android Wear device.
For iOS, on the other hand, Microsoft has introduced Apple's Handoff compatibility that will now allow users to switch and sync app data, alongside other related information, between iPhone, iPad and Mac with just a swipe or a click.
Apart from these updates, there are some common improvements for both iOS and Android users of Yammer. For instance, there's an upgraded interactive notifications feature that helps you engage with your team even faster by 'liking' posts directly from the re-designed Yammer notifications on iOS or Android devices.
The team has added a host of usability enhancements to the mix as well. With the update, notifications now roll up by threads, the Yammer icon appears on all notifications, and even has LED support on Android phones to announce incoming notifications. Although small, these changes might prove useful to more regular users.
Also, you can share links, photos and more into a Yammer group directly from Safari, Chrome and other apps.
"The pace of innovation on our Yammer mobile apps will only accelerate. We want to craft intuitive, powerful mobile experiences that enable teams to collaborate openly, individuals to scale their impact and organizations to bring down silos so everyone can do more and achieve more," adds Bohórquez Marín.
The latest version of Yammer for Android (will vary with device) and Yammer for iOS (version 6.4.18) is available for download via the respective app stores.
Stay tuned for more updates!