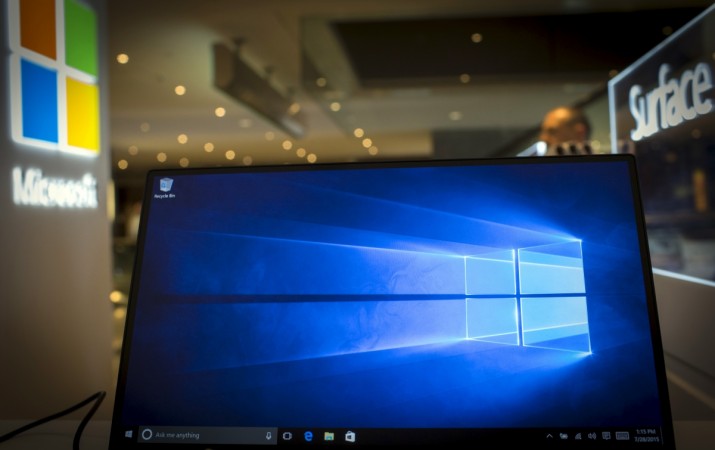 American technology major Microsoft is slated to release the much awaited Windows 10 Creators Update later today in stages, initially in the US and select markets, and later to other markets in the coming days.
The new Creators Update is the first major firmware releasing after the Anniversary update, which was released way back in August 2016. Though the size of the new software is yet to be ascertained, it will be certainly coming with a truck load of new features.
What's coming in Windows 10 Creators Update?
The new Windows 10 Creators update brings advanced 3D paint application, enhanced Edge browser, new MyPeople app, which allows users to pin their favourite contacts to the Windows task bar and easily drag and drop any document, photo or video right on top of the contact for easy sharing.
Users will also get unique notifications, called "Shoulder Taps," from the pre-selected people, and easily open and see an integrated view of emails, IMs, shared documents and more, all under one roof.

The new update will bring the much-needed gaming option, which allows users to create and enjoy live game streaming, and also brings customised Sports tournaments on the multiplayer network including Xbox Live, as well.

It also brings an extra layer of security and privacy to Windows Hello feature. Once upgraded with Windows 10 Creators Update, connected iPhone, Android or Windows Phone will automatically detect when the user steps away from his/her PC or tablet and automatically lock it. This remote lock feature works with smartphones, fitness bands or any device that's paired to Windows 10-based PC or tablet.
Another notable aspect of the new Windows 10 Creators update is that it is coming with three key changes in terms of privacy setting, which Microsoft claims will help in protecting consumer privacy in a big way. It also assured that the data collected from the PC has been reduced to nearly half.
Read more: Microsoft outlines 3 key changes in privacy protection settings in Windows 10 Creators Update; all you need to know
Other notable features include night time mode (reduces the blue light emitted by the screen) to lessen strain on eyes and also set screen-on limit to Xbox One. With screen time limits, parents can manage how much time their children play games across the console and PC.
It also brings mini view feature that lets users keep a small window on top of what they are doing. For instance, user can binge-watch their favourite show and also carry on a Skype conversation or control your music at the same time.
Here's how to install Windows 10 Creators Update in three simple steps:
Step 1: Go to Settings >> Updates & Security >> Windows Update
Step 2: In Windows Update simply click Check for Updates.
[Note: If your system has software version 1607 (with OS Build v14393), your system will upgrade to Windows 10 Creators Update]
Step 3: The "Windows 10 Creators Update" will appear as, "Feature update to Windows 10 version number: v1703". Click the firmware and it will begin downloading and installing the software.
[Note: The new Windows 10 Creators OS update is being deployed in phases so it will take few days to reach all corners of the world.]
Alternate procedure:
Besides the aforementioned method, users can also get the "Windows 10 Creators Update" by going to the Microsoft official website (HERE).
Download the Windows10Upgrade.exe file there and install it in your device. Launch the application and follow the instructions as asked and your device will be upgraded to the new firmware.
Here's the official Microsoft Windows 10 Creators Update video detailing key features: