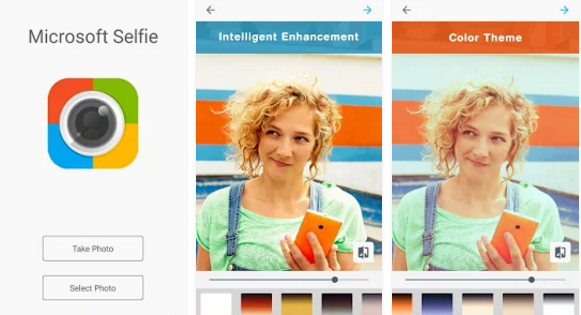 If you are a selfie lover, then Microsoft's Selfie app is what you need now. Even those with the best selfie camera smartphones need an app to add that magical touch to their pictures and Microsoft's app can fulfil your needs.
Microsoft Selfie isn't new, and has been around for a while now. It was introduced almost a year ago, but was reserved to iOS users only. The timing of Microsoft Selfie's introduction to Google's OS couldn't be more perfect as it comes shortly after a report was released stating that 9 out of 10 smartphones around the world run Android.
Also, Microsoft also introduced a web-based interface for its Selfie app. Users on PC can add one-touch effects to photos by uploading a picture to Microsoft's selfie cafe and get instant results. But compared to the Selfie app on iOS and Android, the web-based app is not fully ready to impress users with all the tools available on mobile.
Selfie for Android has a vast collection of filters and its biggest strength is the default enhancer, which uses machine vision tech to improve selfies. Users can also manually change filters, and control the impact of the filter to get desired results.
"Backed by computer vision technology, Microsoft Selfie intelligently considers age, gender, skin tone, lighting and many other variables – all with one click. Users can transform average photos into enhanced, natural photos in seconds," the company said in the app's description on Google Play Store.
Microsoft Selfie is available as a free download on Play Store just like on Apple App Store. In the vast pool of photo-editing tools available in the market, Microsoft Selfie is just another addition as of now. It remains to be seen whether it will grow to fame or be lost among other apps.