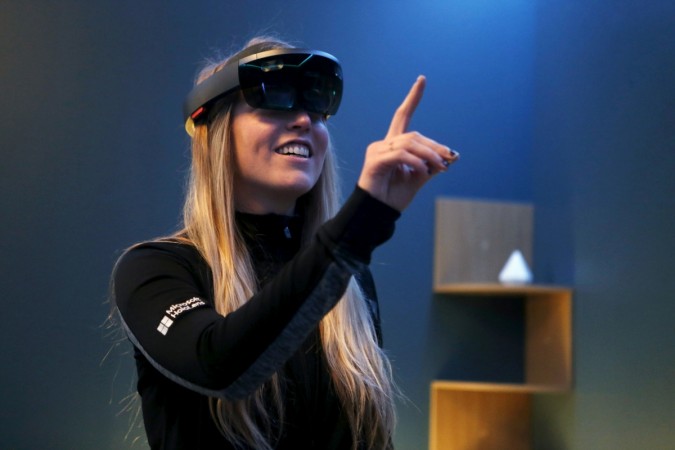 Amidst the din of virtual reality headsets like Oculus Rift, HTC Vive and PlayStation VR, we tend to forget the wearable holographic computer from Microsoft, the HoloLens. The full hardware specifications of HoloLens have been revealed online by technology blog Windows Central.
Reports have noted that HoloLens will be powered by Intel's Atom line of processors, running on Intel Atom x5-Z8100, based on Airmont architecture, which Slash Gear noted was being used "for low-cost tablets and notebooks." Its processor can reach up to clock rate 1.04GHz. The CPU is 64-bit capable, whereas the OS is 32-bit.
Though the 2GB RAM has been said to be a "letdown" as regards the amount of activity it might have to undertake, the device features a 64GB of storage.
The Windows Central report noted that the battery for HoloLens was small 16,500mWh that can keep the device running for about 2 hours.
Windows Central decided to load up AIDA64 Mobile and found the following specifications:
| | |
| --- | --- |
| OS | Windows 10.0.11802.103332-bit |
| CPU | Intel Atom x5-Z81001.04GHzIntel Airmont (14nm)4 Logical Processors64-bit capable |
| GPU/HPU | HoloLens Graphics |
| GPU Vendor ID | 8086h (Intel) |
| Dedicated Video Memory | 114MB |
| Shared System Memory | 980MB |
| RAM | 2GB |
| Storage | 64GB (54.09GB available) |
| App Memory Usage Limit | 900MB |
| Battery | 16,500mWh |
| Camera Photos | 2.4MP (2048x1152) |
| Camera Video | 1.1MP (1408x792) |
| Video Speed | 30 FPS |