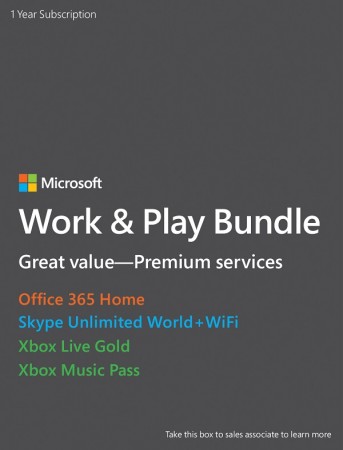 It's raining discounts at Microsoft. The Redmond software titan announced new offers on four of its most useful online services bundled into one package called "Work & Play." With the new discount bundle, Microsoft is helping customers save a whopping 65 percent on the retail price.
The Work & Play Bundle includes annual subscriptions to Office 365 Home, Xbox Live Gold, Xbox Music Pass and Skype Unlimited World.
Microsoft is selling the new worthy bundle exclusively through retail stores in the United States. The online store lists the bundle but redirects to Microsoft store locator for purchase. This is a limited time offer, as Microsoft says the Work & Play bundle will be available until January 4 or until stocks last.
Microsoft's Work & Play Bundle isn't exactly new as WinBeta spotted the bundle previously offered for $199. The new offer marks down the package deal by an additional $50 from its original price tag. By calculating the bundled online services separately, Work & Play makes up for a great deal.
1 Year Skype World Unlimited = $167.88
1 Year Office 365 Home = $99
1 Year Xbox Music = $99
1 Year Xbox Live = $59.99
These are the prices for each service when bought individually. However, Microsoft employees and students get steep discounts. Still, the bundle is a worthy buy for those who use all these services as customers save $276.87 on the total retail cost of $425.87.
In addition to the services offered in the bundle, customers can enjoy 1TB of OneDrive cloud storage, which comes with Office 365 suite. Microsoft is planning to remove the limit on its cloud storage service next year, making the bundle even more valuable. Additionally, Skype will get a new real time translation feature, which is coming to premium members soon.