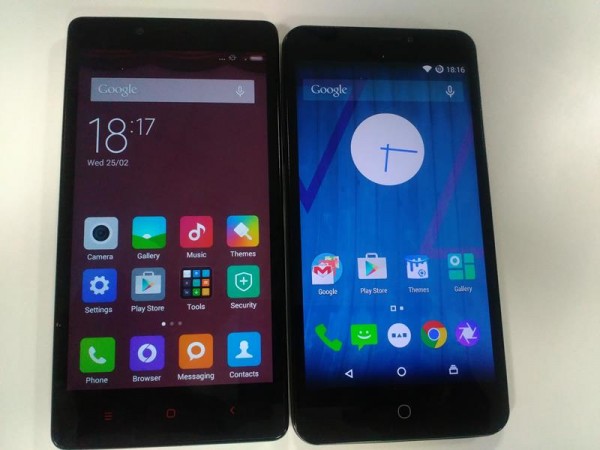 Prospective smartphone buyers will have a hard time to choose among the hordes of budget devices being released in the last few weeks.
Some of the much-talked-about devices between ₹10,000 price range are Micromax Yu Yureka, Xiaomi Redmi 2, Xiaomi Redmi Note 4G, Lenovo A6000 and Moto E 2nd Gen. The latest device to join the fight is Xolo Q1001 which boasts of a 5-inch screen.
To give prospective budget smartphone buyers a clearer idea of device they can buy, here we give major specifications of three devices ― Micromax Yu Yureka, Xolo Q1001 and Xiaomi Redmi 2.
Micromax YU Yureka: Priced at ₹8,999, the device is sort of a phablet with a 5.5-inch HD IPS screen, 720x1.280 pixels (267 ppi pixel density) and protected by Corning Gorilla Glass 3. Some of its major features are Qualcomm Snapdragon 615 processor that clocks at 1.7GHz, CyanogenMod Android 4.4.4 KitKat, 16GB internal memory (expandable up to 32GB) and 2GB DDR3 RAM, 13mp main camera and 5mp front snapper, and 2,500mAh (Lithium-Polymer) battery.
Xolo Q1001: Xolo's latest budget smartphone is priced at ₹6,199, a few thousands cheaper than Yu Yureka. It sports a 5-inch screen with 480 x 854 resolution (196ppi pixel density), powered by Cortex-A7 processor clocking at 1.3 GHz, and runs on Android 4.4 KitKat. It also has features like 4 GB internal memory, 512 MB RAM and microSD up to 32 GB, 5mp main camera and a VGA front snapper, and 2,000mAh battery.
Xiaomi Redmi 2: Redmi 1s successor is priced at ₹6,999 and sports a 4.7-inch screen with 720x1,280pixels (312 ppi pixel density). It is powered by Qualcomm Snapdragon 410 processor clocking at 1.2GHz, run on Android 4.4.4 with MIUI 6.0, comes packed with 8GB internal memory, 1GB RAM and microSD up to 32GB, 8mp main camera and 2mp front snapper and 2,200mAh battery.
Verdict: It is not fair to compare Micromax Yu Yureka with the Xolo Q1001 because of their price difference, but prospective buyers might want to know the devices as both are made by Indian companies. On the other hand, Xiaomi Redmi 2 is placed between these devices as far as price concerned.
Micromax Yu Yureka scores over Xiaomi Redmi 2 and Xolo Q1001 from screen size to other specifications. However, Redmi 2, which has smallest display among the three devices, has best screen resolution with 312 ppi pixel density as against Yu Yureka's 267 ppi and Q1001's 196ppi. Xolo Q1001's specifications may not match with the latest devices from Micromax and Xolo, but it is not bad for its price.