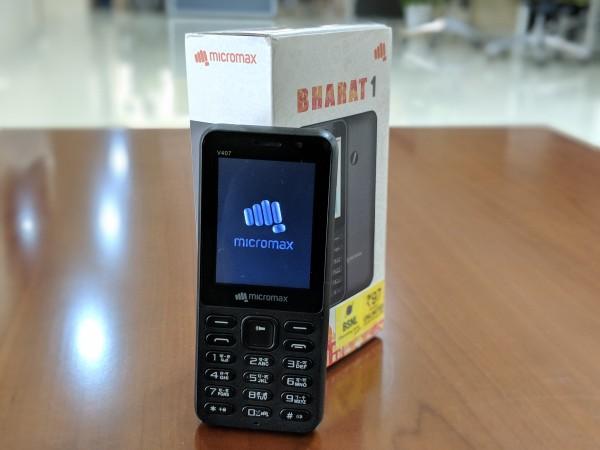 When Reliance Jio welcomed the first 4G VoLTE-feature phone – JioPhone – in India, there was a new trend in the market where telecom operators partnered with phone makers to launch affordable smartphones. Similarly, Micromax made its presence felt by launching a series of affordable smartphones and feature phones, one of them being the Bharat 1.
Micromax partnered with BSNL for its Bharat 1 feature phone that directly competes against JioPhone on every front. But the Bharat 1 phone gained an edge over JioPhone by being a network-unlocked device.
Even though JioPhone offers several benefits such as access to MyJio apps, refundable deposit after 3 years and affordable tariffs, Micromax Bharat 1 came with BSNL's Rs 97 per month plan, which offers unlimited calling and data. At International Business Times India, we had the chance to test the Bharat 1 and dig deeper into how it fares against the mighty JioPhone.

But first, let us remind you that the Bharat 1 costs Rs 2,200 and it can be picked up from any retail store near you. If you argue that JioPhone is effectively free, Micromax co-founder Rahul Sharma explained Bharat 1 will cost customers Rs 5,692 while JioPhone cost could go as high as Rs 6,008 towards the end of three years.
Let's start with the design. Keeping the rural population in mind, Bharat 1 is designed to look familiar to any feature phone in the market. It's got physical screen, a tiny colour display and a torch as well. The T9 keyboard brings nostalgia to us, but many feature phone users will find it convenient as opposed to venturing into the world of touch displays.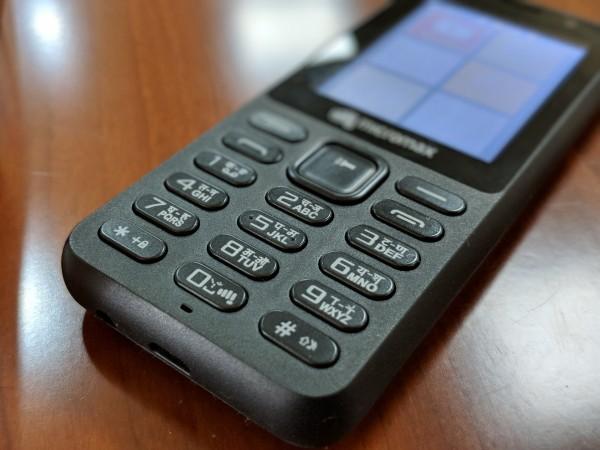 The plastic build of the Bharat 1 is pretty sturdy. Even though we did not test any drops, it is likely to withstand an accidental fall. The removable back cover and battery is standard in feature phones as it accommodates SIM cards. In this case, there are dual SIM card slots and a dedicated microSD card slot for you to add more storage to the basic feature phone.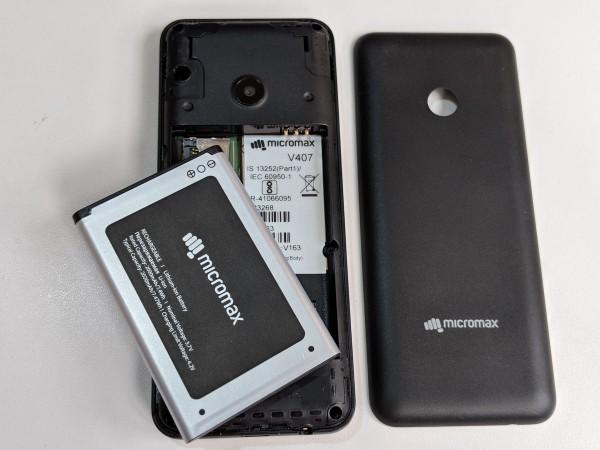 The phone has a standard microUSB port for charging and a 3.5mm headphone jack is included for all your music and hands-free calling.
The keyboard has spacious placement of buttons, which is comfortable to use even if you have broad fingers. Frankly, we struggled with the T9 keyboard use, but that's just due to the frequent use of smartphones and their QWERTY keyboards. But even for smartphone users, Bharat 1 can serve a great deal of purpose as a secondary phone, which is light, sturdy and supports 4G VoLTE along with smartphone apps like Facebook, WhatsApp and YouTube.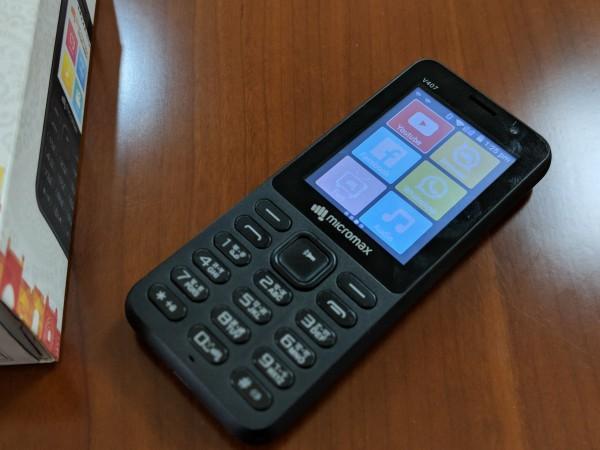 That is indeed a game-changer for Bharat 1. WhatsApp in a feature phone is a win-win for both feature phone and smartphone users. Considering how easily the batteries of smartphones die these days, having a back-up phone with popular social networking tools can save the day.
There is no Play Store in the phone, but we never felt the use of it considering all the necessary apps were preloaded in the phone. All the apps work just fine, and there's Opera Mini browser to save the day when it comes to accessing any website.
The 2.4-inch screen certainly feels small while watching content on YouTube and scrolling through Facebook, but WhatsApp, browser, calls and SMS have no issues at all. On the downside, there's a curser for navigating inside multimedia apps, which can feel tiring at times, and the display isn't the best one out there. But again, we are talking about a feature phone offering a colour display at an affordable price.

The surprises don't just end at the pre-loaded apps inside the Bharat 1. There's Bluetooth for easy sharing, Wi-Fi, tethering and portable hotspot and GPS built inside, which users will find useful in more than one occasion. For instance, we connected our Sennheiser wireless headphones with Bharat 1 and they worked flawlessly.
There are two cameras on the device as well. The rear one has a 2MP sensor and there's a VGA front camera. Both are pretty basic, and their use is limited to well-lit areas. With all these features, a 2,000mAh battery sums up the spec-list. With our usage, Bharat 1 lasted 5 days with internet and calling. But we mainly used it as a secondary device, so those relying solely on Bharat 1 will find the battery last about 2-3 days at best.
Since the Bharat 1 competes against JioPhone, the former lacks support for voice commands. We briefly tested JioPhone's voice command, and it works great. It's mainly useful for those who are out of habit of using feature phones. But that's just one minor setback for Bharat 1, which makes other feature phones look like amateurs.
Verdict
Should you buy one? In our view, smartphone users can certainly use Bharat 1 as a secondary device for calls, messages (WhatsApp) and occasional social networking. But those in the rural areas, which is where the device is mainly targeted, Bharat 1 certainly makes complete sense. The handset does lack fluidity in terms of performance and the display flashes for unknown reasons before going off, which was odd. But the rest of the features of the Bharat 1 make it truly worthy of its price tag.
If you're looking for a 4G VoLTE feature phone with carrier lock, Bharat 1 is the best choice you got right now.
We'll soon be comparing Bharat 1 with JioPhone in an in-depth review, so stay tuned.