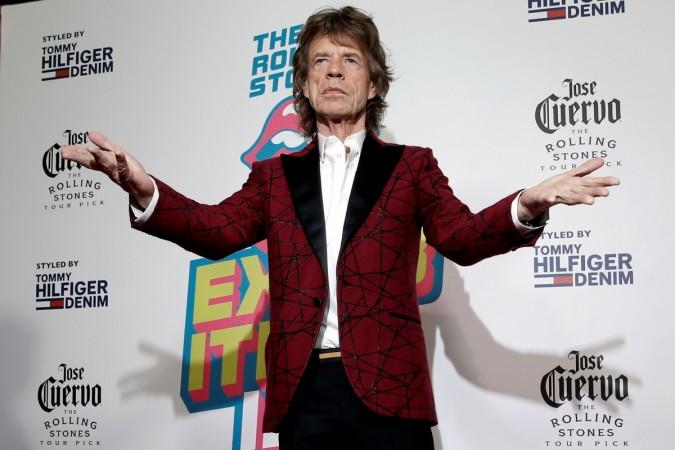 Twitterati had a field day on social media after news of Rolling Stones' frontman Mick Jagger becoming a father again at the age of 73 surfaced online. Jagger's publicist confirmed the news that he welcomed his eighth child with a 29-year-old ballerina Melanie Hamrick.
Jagger's girlfriend Hamrick gave birth to a boy in New York on December 8. His publicist Bernard Doherty issued a statement saying that they "both are delighted" at the birth.
"Their son was born today in New York and [the parents] are both delighted. Mick was at the hospital for the arrival. Mother and baby are doing well and we request that the media respect their privacy at this time," his publicists told Vanity Fair.
The 73-year-old singer has eight children, including Jade, Elizabeth and Georgia May, five grandchildren and one great-granddaughter, who was born in 2014. The eldest child is 45 years old and the seventh child is 17 years old.
After the news of Jagger becoming a father again at 73 broke, Twitter had a field day, as several users took to the micro-blogging site to mock the singer. They expressed their reactions in hilarious ways on the social media platform.
"Mick Jagger is a dad again at age 73. Why? I mean I know how, but why? Poor kid will never really get to know him," one user tweeted. ""Mick Jagger Is Dad at 73" is certainly a read-it-carefully headline," another user said.
"Mick Jagger becoming a dad again at 73. That is some ancient spunk there. Probably smells of mould and tastes of sour milk," another user said. "Mick Jagger just had a kid at 73 and i can't even get a text back."
"Mick Jagger being a father again at 73 is both wonderful and odd. His new child is now younger than his great-granddaughter. God bless him."
"Mick Jagger Is Dad at 73" is certainly a read-it-carefully headline.

— Mark Harris (@MarkHarrisNYC) December 8, 2016
What we expected: Mick Jagger dead at 73

What we got: Mick Jagger dad at 73

— jennslyn (@jennslyn) December 8, 2016
1970: Mick Jagger becomes a father.
1992: He becomes a grandfather.
2014: He becomes a great-grandfather.
2016: He becomes a father. Again.

— Aaron Earls (@WardrobeDoor) December 8, 2016
MICK JAGGER-Save money on two separate, expensive birthday parties by combining your son's 18th with your 100th. @TwopTwips

— Ste Porter (@StePorter1979) December 8, 2016
Mick jagger father for the 8th time aged time aged 73
Twitter: so Rock n Roll
Janet Jackson pregnant for 1st time aged 50
Twitter: selfish

— brownchic?talk (@2open2day) December 8, 2016
Mick Jagger, a pair of emaciated legs with lips, aged 73, just had his 8th child. Meanwhile, i haven't been on a date in 17 months.

— #Bernie2020 (@FeelTheBern11) December 9, 2016
Mick Jagger has had his eight child at 73 and my one and only is making me feel 73.

— Kiran Manral (@KiranManral) December 9, 2016
i cannot believe mick jagger's sperm still works

— ㅤ (@jeannedieIman) December 9, 2016
At age 73 Mick Jagger just had his eighth child with a woman 17 years younger than his first child. Most rock n roll thing I've ever heard

— Ty Fidler (@tyfidler_10) December 9, 2016