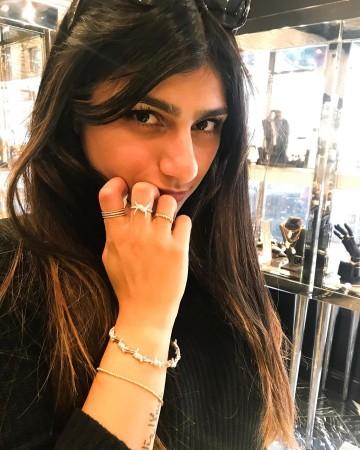 Former porn star Mia Khalifa, ranked No 1 in PornHub for several weeks, made her first-ever appearance at a pro wrestling event last week...and that didn't turn out as pleasant as she would have expected.
Khalifa, 22, was invited by indy wrestling promotion Sabotage Wrestling following her sharp comments against pro wrestling. The Lebanese-born American beauty faced the flak from pro wrestlers for her recent comments stating WWE is 'fake' and 'embarrassing'.
"This is where her career will go to die. I have no respect for the WWE, its not a real sport. It's embarrassing," Khalifa commented on the reports of UFC queen Ronda Rousey joining the WWE.
Pro wrestling star Joey Ryan, who is infamous for his theatrical in-ring moves like the 'boob-plex' and the 'YouPorn Flex (crotch flip)', successfully managed to try out some of his dirty tricks on Khalifa, who was present alongside her scripted bodyguard in the ring.
"If you think it's so easy to get in here [inside the ring] and do this, Mia Khalifa, I invite you down into the ring," said the 38-year-old Ryan, who clearly referred to the pornstar's comments on Twitter off late.
"There's a term on the internet called keyboard warrior, so now you're in the ring, you can really do what you really said."
Khalifa replied: "Of course I do. You look like a giant hairy man-baby. You are basically a cartoon. I cannot believe your gimmick. This is ridiculous."
To this, Ryan said: "Why don't you back up what you said and touch my d**k?"
That set the start of some dirty action on the ring and Ryan, at one point, pulled out a lollipop from his underwear and stuffed it in the mouth of Khalifa. He even tried pulling her hand in an attempt to grab his crotch!
Here's the full video