'Me Too' is currently trending on social media platforms. In the wake of the Harvey Weinstein sexual assault allegations, thousands of men and women are tweeting their sexual harassment story to shed light on the matter.
Also read: Harvey Weinstein's decades of sexual assault allegations: Check how celebs reacted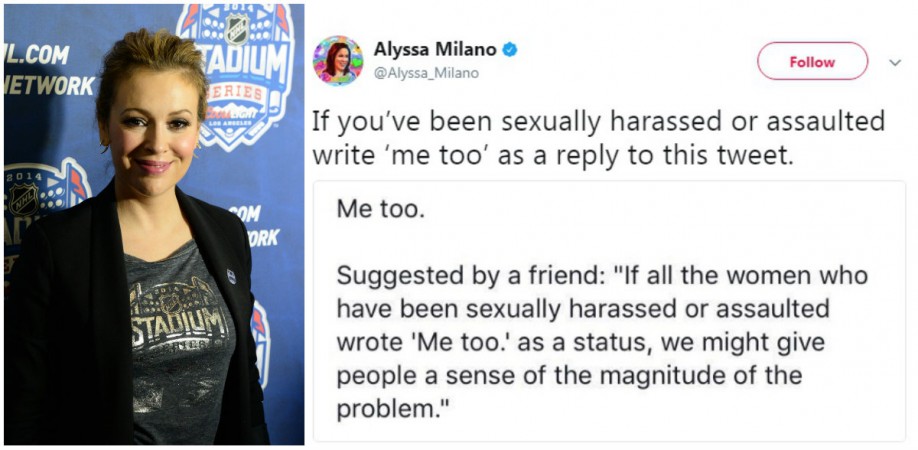 Actress Alyssa Milano (Commando, Charmed) initiated the social media campaign late on Sunday as she urged people to reply to her on Twitter with 'me too' if they had ever been sexually assaulted or harassed.
Several actresses including Anna Paquin (X-Men), Debra Messing (Will & Grace) and Laura Dreyfuss (Glee) have responded to Milano's tweet to spread the issue.
Many men also joined the viral social media campaign by putting a tweet.
According to The Guardian, at least 8,000 women replied to the tweet while several others shared the notion on Facebook, Instagram and other social media platforms.
Im not a woman but "me too" when I was a kid. I was just told its par for the course in the coal region& 2accept it. So many pigs on the DL.

— Gare-Bear (@Pincho73) October 15, 2017
Me too. Harassed, several times.

Like *every* woman I know.

Women who've "only" been harassed, not assaulted, consider ourselves lucky. ?

— Jyn Erso 2017 ?? (@JynErso_2017) October 15, 2017
When you are sexually assaulted or harassed, it is so easy to be made to feel like it was not what you experienced. It was. #MeToo

— Katie Hubbard (@Khubbard991) October 16, 2017
FYI, #metoo is a HUGE reason why so many marched on Washington for @womensmarch.
That should be clearer than ever tonight. Think about it.

— #EvanRachelWould (@evanrachelwood) October 16, 2017
I have typed & deleted this more times than I can count. I learned about evil before any person should. I am heartbroken at how the cycle continues & to see how many others have suffered because of it. ? #MeToo #WomenWhoRoar

— Alt Fed Employee (@Alt_FedEmployee) October 15, 2017
When I was raped in college I had to drop out of school & move out of my apartment because one of my roommates was dating his #MeToo (1/7)

— Meg V. Jones (@ItsMegNotMegan) October 15, 2017
#MeToo. I have been sexually assaulted and harassed as a child and adult. I want my daughter to grow up in a safer world for women and girls. #WomenWhoRoar

— alt-kellyann (@alt_kellyann) October 15, 2017