The Harvey Weinstein sexual assault scandal have given women across the world the strength to come out in open and narrate the nightmarish events from their life with the hashtag #metoo on social media. Swedish footballer Alexandra Nord, narrated one such shocking incident that happened to her at the age of 19.
Without naming the English Premier League footballer, Alexandra, who is 25 at the moment, revealed that she was on the verge of getting raped one night in a hotel in South Kensington, London.
The former QPR Ladies team footballer has nevertheless wrote on her blog on Tuesday October 24 to respect her privacy and not make a sensational issue out of it. She mentions that the incident happened with her "6 years ago, get over it it's not even news anymore".
We at International Business Times, India, would like to respect her privacy and not use her personal photos, as she has requested. Instead, we would like to take this opportunity to spread the message of putting a period on crimes against women and ask all the silent victims not to keep mum, anymore.
We do understand that Alexandra might have gone through major trauma six years back and that stopped her from filing a complaint at the Scotland Yard. The #MeToo campaign has however, given her a platform to reveal the nightmarish incident from her past.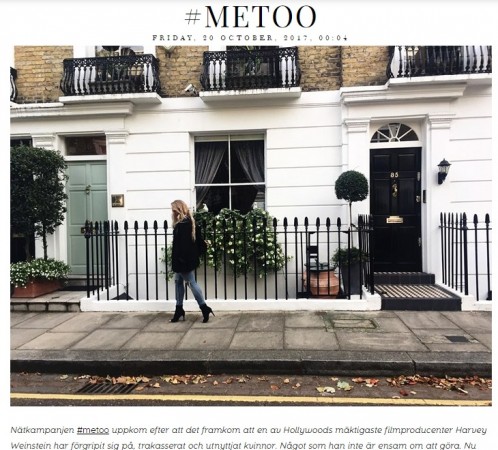 No one knows yet who the married Premier League footballer was and why he tried forcing on her, despite her saying NO. Fact remains both men and women need to understand the gravity of the words YES and NO and the respect towards everything consensual.
Only then can the #MeToo campaign generate a movement and transform society. Let's do our bit!
"He had parts of his body where they should not be and tried to have sexual intercourse with me. I was very clear that I did not want to have sexual intercourse with him and said no. I remember lying on top of my bed with all my clothes on me. I understood that it was he who had taken off my clothes. I do not know exactly how far he had gone.'

My first reaction was anger, then I was ashamed and thought maybe I had agreed to something? I do not remember everything I said and did the night before. What I remember though is that I never wanted to end up in this situation, but after all, I had tried to get rid of this guy several times before and even if I had occasionally sent out signals indicating something else...

I did not give him ANY right to touch my body without my permission."

Source: Alexandra wrote on her blog.