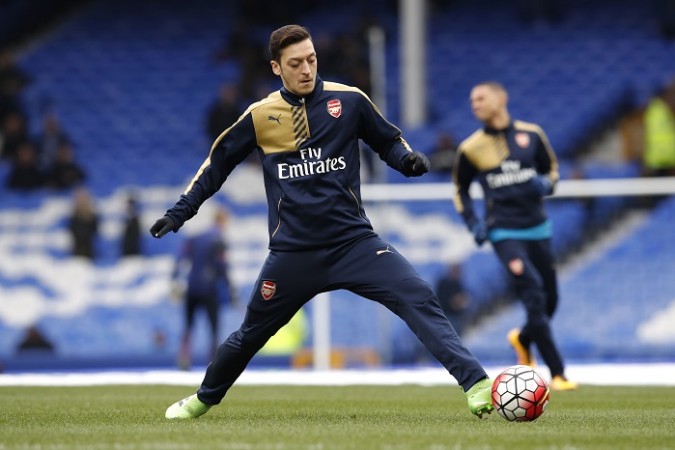 Mesut Ozil started to look at home at Arsenal this season, getting into his No.10 groove again, spraying those wonderful passes and delectable through balls and even chipping in with a few goals himself. Everything was looking nice and happy for Ozil and Arsenal at the turn of the year, with a first English Premier League title in 12 years very much within reach.
However, things have gone a little pear-shaped for Arsenal since then, with Arsene Wenger's team bottling it when it matters most, yet again, and letting the pressure get the better of them. Ozil has been one of those players who hasn't quite been able to find his touch in the final third in the second half of the season, and as a result, Arsenal's title hopes have gone down the drain.
Whenever a team is struggling, their world-class stars immediately start being linked with moves away from the club. Alexis Sanchez has been tipped for a move away, despite an underwhelming season, and the same goes for Ozil as well, with recent reports suggesting Zinedine Zidane is keen to acquire the Germany international's services by bringing him back to Real Madrid, three years after he was sold to Arsenal. Barcelona are also reportedly interesting in taking Ozil back to the La Liga.
However, as far as Ozil is concerned, Arsenal are the only team he is focussed on at the moment. "Zidane was an amazing player," Ozil told Spox. "He did not just play football, but lived for the game. I got to know him after his active career as someone who is always willing to lend a hand.
"But that does not say anything about my future. I am only thinking about Arsenal. There is no truth in the speculation linking me with a return to Spain."
Ozil, though, did not go as far as committing his long-term future to Arsenal, saying anything is possible when asked about a return to the La Liga or Bundesliga. "In football you can never say never," the 27-year-old added. "Currently, however, I focus exclusively on the current Premier League season, and then to the European Championship. What happens in the next or the next season, we will see."
Arsenal are 11 points behind Leicester City at the moment with a game in hand, and while most have ruled the North London side out of the title running, Ozil has not quite given up yet.
"But we still have a chance of winning the title. We have to hope Leicester and Tottenham slip up and then make the most of it."
Ozil, however, acknowledged Arsenal only have themselves to blame for the situation they find themselves in, when they should have really been top of the table at the moment, dictating terms to their title rivals.
"Looking at our season so far, we have to be honest and admit that we mucked it up ourselves," Reuters quoted Ozil as saying. "We did not play to our potential in the games against the so-called smaller teams. You immediately get punished for that in the Premier League."
Arsenal return to Premier League action with a home game against Watford, the team that knocked them out of the FA Cup.