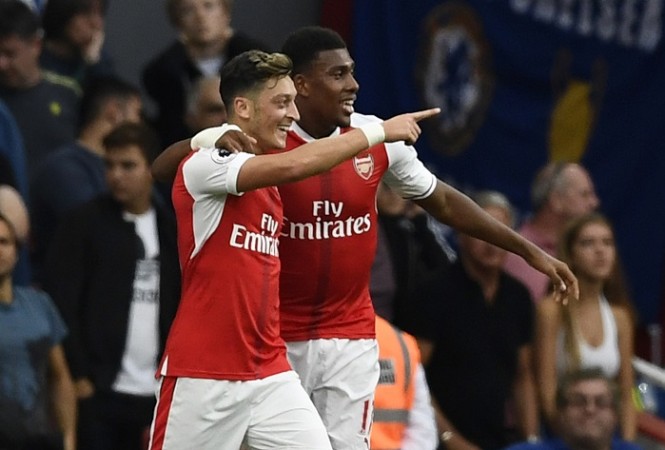 When Mesut Ozil was substituted at halftime during the Germany vs Northern Ireland World Cup qualifier in Hannover, the Arsenal fans on Twitter immediately feared the worst. The Gunners, after all, have had a lot of problems with injuries to their big players, which has in turn hurt their chances of winning titles.
However, the Germany and Arsenal playmaker was quick to play down any worries of an injury, saying all was fine. It looks like, with the match already sealed at 2-0, thanks to goals from Julian Draxler and Sami Khedira, Joachim Low had just decided to give one of his key players a rest.
"Thanks for taking care because of my substitution but everything is all right guys #GERNIR #DieMannschaft," Ozil wrote on his official Twitter account.
While Ozil has not been at his assist-giving best this season, he has still been a vital cog in Arsenal's wheel. The Gunners are currently on an impressive run in the Premier League, having won their last five matches, after starting the season with a loss and draw.
Along with Ozil, another of the players who has been extremely impressive this season is the youngster Alex Iwobi, and the Germany international was all praise for his teammate, comparing him to a couple of greats.
"He (Iwobi) reminds me of his uncle, Jay-Jay Okocha," Ozil told Arsenal Player. "He was a player I loved watching. Alex reminds me of a mixture of him and Edgar Davids. He's really strong on the ball, also defensively, but he's good in front of goal too.
"He knows exactly what he can do. He isn't scared and doesn't hide on the pitch. He just wants to have fun playing football and that really shows on the pitch, and also in training.
"He's developing really well and if he continues the way he's been playing the whole season, he will really enhance his game. The manager (Arsene Wenger) knows exactly how good he is and I wish him all the best. He is really young and is on a really good path."