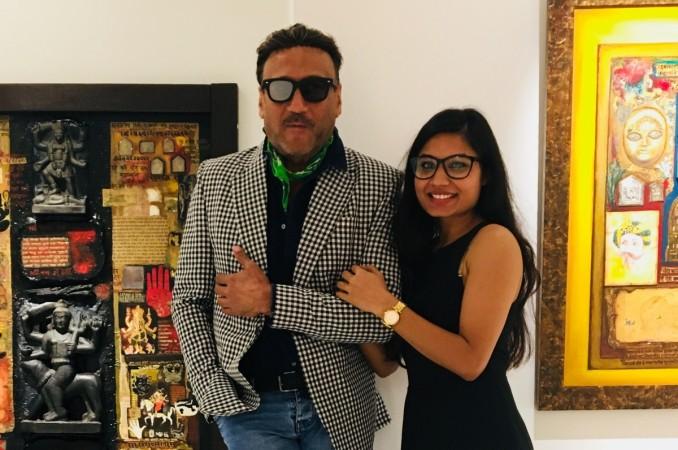 Jassi Sandhu, debutant artist, recently concluded her first exhibition on the 13th of December. Born with a penchant for all things art, Jassi fashions her work based on mixed themes, encompassing those of mythology, folk art, and an assemblage of various material and textures.
During the exhibition, Jassi's work received accolades from art enthusiasts and connoisseurs alike And the most surprising and exciting moment was when actor Jackie Shroff was seen lost in another world, mesmerised by Jassi's work.
Jassi began painting at the age of 22 and takes up after her mother and artist – Sunita Sandhu. Her father, Mahendra Sandhu, used to be an Indian film actor who has extensively worked in Hindi and Punjabi films.
Speaking about her work and first exhibition artist Jassi Sandhu said, "I am touched by the love and appreciation that I have received over the past week. Many well-wishers, art lovers and connoisseurs have showered my work with praises, it has been an exciting journey from blank canvases to the week-long exhibition at the Taj Art Gallery. I feel blessed to have such a loving and supportive family."
Speaking about Jassi's work actor Jackie Shroff said, "I have never seen work like this before, it is very unique and beautiful, I loved the pinks in the painting, they are very eye-catching. I like Jassi's style and cannot wait for her next exhibition at World Trade Fair, Cuffe Parade on the 22nd of December. I'd say, Jassi jaisa koi nahi!"
The young and talented artist sold many paintings during her first exhibition at the Taj Art Gallery, Taj Mahal Palace hotel. Inaugurated by Aarti Surendranath, the exhibition was attended by the crème de la crème of Mumbai's social circuit including Aarti and Kailash Surendranath, Mangalorean artist Madhusudan Kumar and ace cinematographer Gopal Shah(of Veer, Mujhse Dosti Karoge, etc. fame).