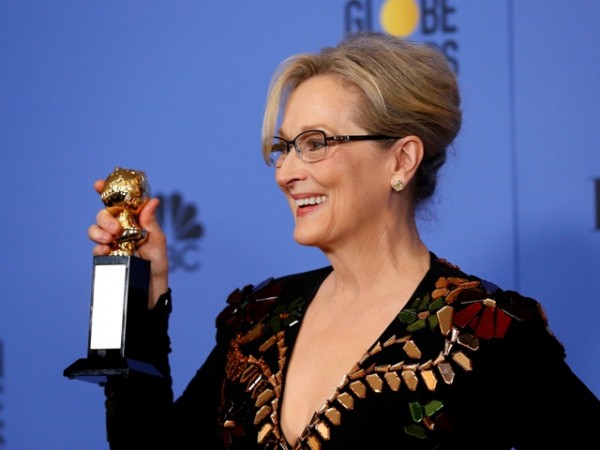 Almost everyone present at the Golden Globes ceremony -- from Mel Gibson to Viola Davis and Bradley Cooper to Ryan Gosling-- were left in awe by the sensational speech of 67-year-old American actress Meryl Streep on Sunday.
Listen: The full speech from Meryl Streep.
Meryl Streep, after accepting the Cecil B DeMille lifetime achievement award, slammed Donald Trump and his attitude towards the press and immigrants in her six-minute speech. She also took a dig at football and Mixed Martial Arts, which according to her, "are not arts".
Hollywood is crawling with outsiders and foreigners. And if we kick them all out you'll have nothing to watch but football and mixed martial arts, which are not arts.

- Meryl Streep
UFC star Megan Olivi on Streep's Mixed Martial Arts comment
Meanwhile, one of the prominent faces of UFC, Megan Olivi, took issue with Meryl Streep's comment. The UFC host and reporter, in a series of tweets, reminded Streep of the definition of an 'artist'.
"I beg to differ," wrote the 31-year-old Megan on Twitter. "Really weird to see someone talk about not discriminating then basically discriminate against an entire group of skilled, hard working ppl [sic].
Definitions 3&4. Athletes are artists in their own right. Plus they're an incredibly diverse group. Don't be so close minded & judgemental☺️ pic.twitter.com/MLW71HQQ2K

— Megan Olivi (@MeganOlivi) January 9, 2017
Meryl Streep said she was stunned to see Donald Trump mocking a disabled reporter.
There was one performance this year that stunned me. It sank its hooks in my heart. Not because it was good; there was nothing good about it. But it was effective and it did its job. It made its intended audience laugh, and show their teeth. It was that moment when the person asking to sit in the most respected seat in our country imitated a disabled reporter. Someone he outranked in privilege, power and the capacity to fight back. It kind of broke my heart when I saw it, and I still can't get it out of my head, because it wasn't in a movie. It was real life. And this instinct to humiliate, when it's modeled by someone in the public platform, by someone powerful, it filters down into everybody's life, because it kinda gives permission for other people to do the same thing. Disrespect invites disrespect, violence incites violence. And when the powerful use their position to bully others we all lose. O.K., go on with it.

- Meryl Streep
Donald Trump hits back
"I was never mocking anyone," Trump has been quoted as saying by the New York Times. "I was calling into question a reporter who had gotten nervous because he had changed his story," arguing that the disabled reporter had been trying to back away from an article he wrote in September 2001 about the terrorist attacks on the World Trade Center and elsewhere that month.
"People keep saying I intended to mock the reporter's disability, as if Meryl Streep and others could read my mind, and I did no such thing. And remember, Meryl Streep introduced Hillary Clinton at her convention, and a lot of these people supported Hillary..."
Hillary flunky who lost big. For the 100th time, I never "mocked" a disabled reporter (would never do that) but simply showed him.......

— Donald J. Trump (@realDonaldTrump) January 9, 2017
What had happened: During a rally in 2015, Trump flailed his arms and made a gesture which seemed to mock a disabled reporter, sitting among the audience. The disabled reporter in question is Serge F. Kovaleski, working with the New York Times.
President of MMA Promotion Bellator sends an invitation to Meryl Streep