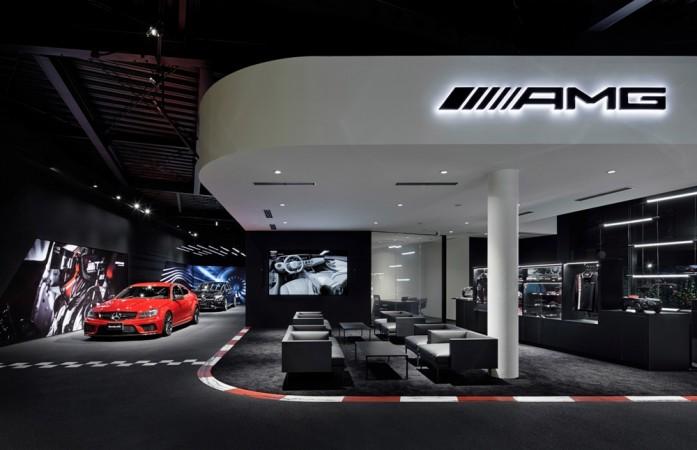 Mercedes-AMG, the high performance division of German carmaker Mercedes-Benz, has opened its first stand-alone dealership centre in Tokyo Setagaya, Japan. The new showroom is not integrated as a shop-in-shop into a Mercedes-Benz dealership. It focuses exclusively on the models and themes of the sports car.
Also read: Mercedes-Benz pips BMW in 2016; reclaims top spot in luxury car sales after 11 years
Mercedes-AMG has over 400 AMG Performance Centres in 40 countries that have been opened since 2008. The new stand-alone AMG dealership is based on the strategic product range expansion of the recent years, says the company. The focus of the new AMG chain is on the Mercedes-AMG GT R, with which the sports car and performance brand recently expanded its product line-up at the upper end of the range.
Mercedes-Benz has given a unique brand identity to its new store, which flaunts a LED facade. During the day, the white louvres and the diagonal structure will lend a premium appearance while a white-red exterior lighting is activated at night.
The dealership provides latest AMG Performance models and their technological features, the AMG Driving Academy, the AMG Collection, and the involvement of AMG in motorsport on two storeys with a total area of almost 1,000 square metres. The new retail outlet features lounges, a boutique, motorsport exhibits, and consultation areas. In future, the independent AMG retail partners will handle all functions of the car dealership.
The vehicles on display sit on asphalt. Various road markings extend a look of racetrack inside. This has been incorporated to explain the roots of the sports car and performance brand, which scored a legendary win with a red AMG 300 SEL 6.8 at the Circuit de Spa‑Francorchamps in 1971. In 2017, Mercedes-AMG also celebrates the performance brand's 50th anniversary.