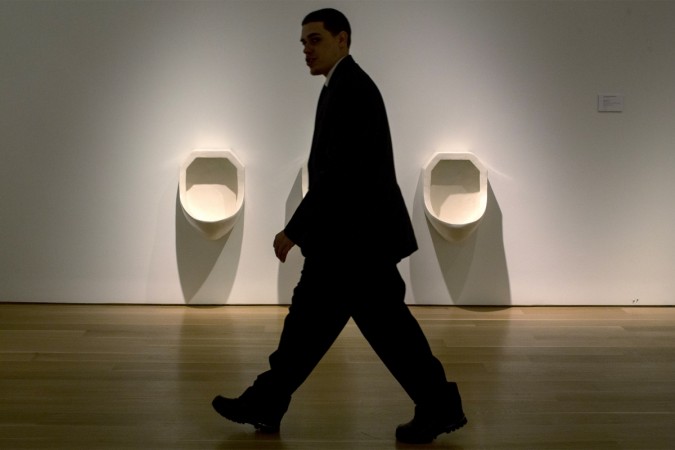 A photo of men's urinal has gone viral on Reddit and it has divided the internet. While men are laughing at the viral photo, women are baffled and the reason is a toilet paper roll.
The image, which was shared on Reddit by user Martinjbell, shows a toilet paper roll hanging on the wall near the urinal. Martinjbell wrote: "Female co-worker can't understand why we're laughing at how she cleaned the men's bathroom."
"The best part is that she put a roll next to EVERY urinal," Martinjbell added.
The photo quickly caught the attention of the Reddit users and within no time, it racked up more than 1,400 comments. Several users commented saying that they would rather "shake" than use a toilet paper.
"Why is this funny? You just shake it Karen. 'Shake what? Why is this funny?'" user TheRealMajour said.
"That was very considerate of her. Completely, novelly wrong. But considerate," user PM_yr_cute_clit_plz said.
While men found it funny, women said that they didn't find anything wrong with the photo.
"I have to be honest, as a woman, I didn't see anything wrong here until I read the comments," user yildizli_gece said.
"As a woman, it took me way too long to figure out what was wrong," user cmerksmirk said.
"Haha! I thought they were laughing bc it looks like a big open-mouthed face winking!" user the_halls_of_fame said.
Some even came up with "creative ways" of using the toilet paper holder.
"It's not a toilet paper holder. It's so you can hang your phone from it with a lanyard and take Skype calls while pissing," user NotARobotSpider said.
"It's for those of us who take our pants all the way off when we pee. We need somewhere to hang them," user 5_sec_rule said.
"You can also hang your shirt there. For those of us that get completely nude to pee," user Get_Your_Kicks said.